Trump supporters attempt to troll Starbucks... by buying Starbucks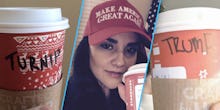 So much for those green Starbucks "unity" cups. 
Thirsty Donald Trump supporters flocked to Starbucks on Friday to order drinks under the name "Trump," making it so that baristas had to yell out his name when the drink was ready. The motive: catching Starbucks employees denying Trump supporters service at the ubiquitous coffee shop. 
What allegedly ignited the fire: A video that went viral Wednesday of a man in Miami blaming slow service on the fact that employees knew he voted for Trump.
While #TrumpCup was already in existence, a recent call-to-action allegedly brought attention to the hashtag. Early Friday morning, Twitter user @bakedalaska posted instructions for "Operation #TrumpCup," telling followers to order drinks with the name "Trump" and document if the barista refused. Over 3,600 people retweeted @bakedalaska's tweet as of Friday afternoon. 
The people of the internet went off and tried to order the #TrumpCup, with varying levels of success. 
The #TrumpCup campaign is a "statement," not a protest, Baked Alaska tweeted around 3 p.m. Friday. In a Periscope video, he complained about Twitter banning alt-right accounts and said #TrumpCup was about winning a "culture war." 
Others on Twitter pointed out the "statement" was illogical because Trump supporters were giving Starbucks, a company whose CEO endorsed Hillary Clinton in September, their business. 
"Over the years, writing customer names on cups and calling out their names has been a fun ritual in our stores," Starbucks said in a statement to Business Insider. "Rarely has it been abused or taken advantage of. We hope and trust that our customers will continue to honor that tradition."
If Trump supporters caused Starbucks to abolish the time-honored tradition of Starbucks baristas misspelling our names, now that'd be a real national tragedy.