How much is Ivanka Trump worth? 4 facts you need to know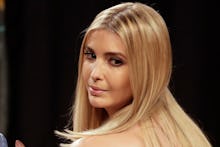 Like her father, Ivanka Trump understands the power of personal branding and its monetization. On Nov. 12, shortly after she appeared on 60 Minutes, her own eponymous fashion company sent a "style alert" of Ivanka's jewelry to a group of fashion journalists. The missive from Ivanka's company highlighted the collection she was wearing during the interview. 
It's not the first time she's broadcast a shameless plug. Last summer, Ivanka was selling her "look" when she delivered her speech at the Republican National Convention: 
In addition to her own business, Ivanka plays a pivotal role at the Trump Organization. She has led the organization's largest deals, such as the purchase of a resort in Miami and the renovation of the Old Post Office Pavilion in Washington D.C. 
So how did Ivanka amass her net worth? Here are some facts you need to know. 
Net worth
According to the website Celebs Net Worth, Ivanka's fortune reaches an overall amount of $150 million. Being an heiress has been one of her greatest sources of income.
Her collection  
Not only does she have her own jewelry brand, she also inked a deal with Nordstrom to sell her own line of shoes, clothing and handbags. Additionally, she started her own collection of perfumes and eyewear. Her brand has taken a hit, however, thanks to her father's campaign, with customers petitioning Nordstrom to stop selling items from Ivanka's $100 million accessories line. 
Her modeling career
Ivanka signed to Elite Model Management when she was 14. In 1997, she appeared on the cover of Seventeen magazine and was featured in a Tommy Hilfiger campaign. She has walked the runway for Thierry Mugler and Versace, according to Cosmopolitan. In an interview with Marie Claire, Ivanka said modeling is "as ruthless an industry as real estate."   
Ivanka, the mogul  
Despite leaving the modeling business, Ivanka was always under the entertainment spotlight. She joined her father in the reality show The Apprentice. In 2014, she started the #WomenWhoWork initiative on her own website, posting articles about life advice targeted at women looking to climb the corporate ladder. A book with the same title is slated to be released in 2017. 
Before she joined her father's business, Ivanka worked for a company that helped her introduce her jewelry line.