These are the best weather apps for your iPhone so you'll always be prepared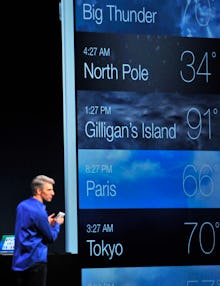 iOS' native weather app, like many of the iPhone's pre-installed apps, is terrible. You can find much more efficient, visually pleasing and accurate weather apps in the App Store. The options can be overwhelming, so here are some of the best weather apps to consider. 
One of the best and most-detailed weather apps also happens to be free. Get updated weather information from the company's 200,000-plus personal weather stations throughout the country. Interactive maps, live radar and user-uploaded photos will keep you current on what's happening both locally and nationally. 
If those charts and data are too overwhelming, minimize the unnecessary details with Solar: Weather. It boasts a colorful and remarkably simple interface that tells you only what you need to know. No frills, no cost — the app is free. 
Widely recognized as one of the best weather apps available, Dark Sky will set you back $3.99 but leave you prepared and satisfied thanks to an excellent user experience. Its forecasts are praised for their accuracy and timely push notifications will alert you when inclement weather is approaching. Download it, and you're significantly less likely to get stranded in a rainstorm. 
It's a trusted brand for a reason. The Weather Channel's app may not outshine competitors in any aspect in particular, but it certainly doesn't falter in any regard either. Its forecasts are reliable and the interface is straightforward. Perhaps the app's distinguishing feature is that it's not just an app — the Weather Channel is a legitimate news organization that delivers full-fledged reports about the weather and more.