This enormous blob of foam is consuming the streets of California — and our hearts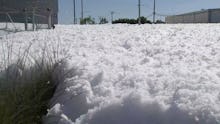 A foamy white blob provided us with a little bit of light in these dark times. 
A fire suppressant system malfunctioned on Friday, resulting in oozes of white foam flooding through the streets of Santa Clara, California. The chemical foam is used as a fire retardant, the Mercury News reported, and started to blanket the streets outside of a hangar near San Jose International Airport.
"When it goes off, all of the foam gets discharged," San Jose Fire Capt. Mitch Matlow told the Mercury News. "The purpose is to prevent a flammable liquid fire inside the hangar from spreading. If there had been a fire, this system would've worked very well. It makes lots and lots and lots of foam, and that's what we're seeing now. It's essentially like bubbles in your bathtub."
One man even took it to task to bike through the bubble bath.
"Yeah, someone had to do it," Blake Harrington, the man who dove right in, told KVTU. Just a man, standing in front of a blob, asking it to consume him. 
While it's unknown if the chemical foam is non-toxic, Matlow suggested that in terms of wading in it, "it's not the wisest idea."
The Santa Clara California Fire Department tweeted that "clean up and removal" of the blob that stole our hearts is underway, but "will likely take several hours."