Trump supporter tried, failed to draw swastikas vandalizing park honoring late Beastie Boy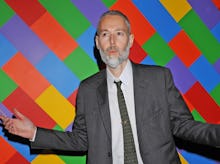 Hate crimes have spiked since Donald Trump won the election, and a new mark of anti-Semitism hit a New York City park honoring a late Beastie Boy. 
At least one apparent Trump supporter defaced Brooklyn Heights' Adam Yauch Park, which honors the late Beastie Boy in the neighborhood where he was raised, Gothamist reported.
"Most famous as 'MCA' of the legendary Rock and Roll Hall of Fame inductees the Beastie Boys, Yauch grew up playing in this playground, then named State Street Park and later Palmetto Playground, as a child," the NYC Parks website states. "The park was the setting for some of Yauch and his family's fondest memories, including his father Noel teaching him to ride a bike." 
Yauch, along with the other Beastie Boys bandmates, was Jewish. 
New York City Councilman Brad Lander posted a photo on Twitter Friday showing swastikas and "Go Trump" graffitied onto the playground equipment.
New York State Senator Daniel Squadron responded to the anti-Semitic defacement by issuing a statement on Twitter asking the community to join him, Lander, the Anti-Defamation League and other New York representatives this coming Sunday to "stand against hate messages" in Adam Yauch Park.
The statement noted that the New York Police Department and Parks Department "are in the process of removing the hate messages as well as investigating the incident."
Squadron also tweeted directly at President-elect Trump, expressing hope that Trump would join them on Sunday in their public denouncement of hate crimes in Brooklyn and around the country.
Trump has yet to respond to the tweet.