Mike Pence went to see 'Hamilton' on Friday night and the cast called him out onstage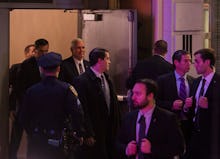 Vice President-elect Mike Pence took in a performance of the beloved Tony Award-winning musical "Hamilton" on Friday night in New York City only to be met with boos and jeers by other audience members as he attempted to find his seat.
Pence, who has advocated for forced conversion therapy for queer people and refused to acknowledge the benefits of needle exchange programs for HIV patients, was somehow not a popular guy at a show where the lead actor is a black, gay man who is open about his HIV-positive status. 
After the curtain dropped, actor Brandon Victor Dixon, who plays Aaron Burr, strolled out along with other cast members to thank Pence for coming, and to address the concerns harbored by some Americans:
"We, sir — we are the diverse America who are alarmed and anxious that your new administration will not protect us, our planet, our children, our parents, or defend us and uphold our inalienable rights, sir. But we truly hope that this show has inspired you to uphold our American values and to work on behalf of all of us. All of us. Again, we truly thank you for sharing this show, this wonderful American story told by a diverse group of men and women of different colors, creeds and orientations."
Dixon reportedly received a standing ovation for his comments.
Although Pence had reportedly already begun to make his exit as Dixon delivered his comments, the New York Times reported a show spokesman said Pence remained in the hallway outside the auditorium to hear the remarks in full.
The show's lead producer, Jeffrey Seller, told the Times that cast members had collaborated with the show creator Lin-Manuel Miranda to pen the speech.
"We had to ask ourselves, how do we cope with this?" Seller said to the Times. "Our cast could barely go onstage the day after the election. The election was painful and crushing to all of us here. We all struggled with what was the appropriate and respectful and proper response. We are honored that Mr. Pence attended the show, and we had to use this opportunity to express our feelings."
Witnesses who attended the performance reported that the audience's response to Pence's presence was slightly less subtle.
One Twitter user in attendance, Christy Colburn, claimed the crowd gave a standing ovation at one of the musical's lines: "Immigrants: We get the job done."  At another moment where one of actors playing King George asks, "Do you know how hard it is to lead?" she claims the crowd became so wild that the number had to be paused temporarily.
Seller told the Times that although President-elect Donald Trump has not expressed any desire to see Hamilton as of yet, he would be "welcomed to attend" at any time.
Trump himself took to Twitter on Saturday morning to admonish the "Hamilton" cast for their "harassment" of Pence, calling on them to "Apologize!"
Nov. 19, 2016, 9:16 a.m.: This story has been updated.