Pre-Black Friday Sales 2016: 12 early bird deals you should snag quickly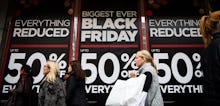 Big-name department stores have sales all year long but there's just something about the day after Thanksgiving that makes the prices drop and the crowds swarm. If you're looking to avoid vicious holiday season shoppers, hitting the stores before the Black Friday madness begins is a sure-fire way to do so. 
Here's a list of stores that won't make you wait until Nov. 25 to start saving. 
Walmart: Walmart debuted their Black Friday savings days before Thanksgiving in preparation for the big shopping event. Store deals are going on now and range from $140 off the Apple iPad Air 2, to $79 for Keurig K50 Coffee Maker.
Walmart's Black Friday sale starts Thursday, Nov. 24 at 6 p.m both online and in-store. 
Macy's: Macy's Black Friday Doorbusters online sale will start on Nov. 23 and go until Nov. 26. Sales include 25% off clearance designer bags, 60% off select women's coats, 75% off men's packable down coats and 70% off clearance fine jewelry. 
These 'doorbuster' deals will be available in Macy's stores starting Thursday, Nov. 24 at 5 p.m to 2 a.m on Friday, Nov. 25. 
Verizon Wireless: Verizon's pre-Black Friday sale promises shoppers a buy one, get one half off deal on the latest smartphones and $100 off tablet purchases. Non-Verizon customers will be offered 50% more data if they switch to Verizon and Fios.
Foot Locker: Black Friday deals on the latest footwear and active apparel start Wednesday, Nov. 23 on FootLocker.com. From Jordan sneakers to Nike hoodies, shoppers can save $20 off of a purchase of $120 or more and free shipping for purchases $75 and over. 
H&M: H&M is gearing up for Black Friday by offering 20% off a purchase of over $60. Get it now before it's too late: the offer is available online until Nov. 23 and in-store until Nov. 28. 
Forever 21: Forever 21 is offering 'early bird' shoppers $7 printed leggings, $5 scarf and glove sets and $15 holiday sweaters way before they open their stores on Black Friday. These deals are an online exclusive. 
Kohl's: Although in-store sales won't commence until Nov. 25, Kohl's is giving shoppers an online sneak peek of what's to come starting on Nov. 21. The store will offer 15% off all purchases from Nov. 21 until Nov. 25. For every $50 spent, shoppers will get $15 in Kohl's cash to reuse online and in-store.
Amazon: From now until Black Friday, Amazon will be hosting a Deals Week for early online shoppers. Deals include 70% off a MacBook multiport converter. By downloading the Amazon app, users will be notified when deals are posted. 
Bloomingdale's: From now until Nov. 23, Bloomingdale's will offer shoppers up to 50% off select items. For every $200 spent, the store will take $25 off your purchase. 
J.Crew: From now until Nov. 21, J.Crew will offer shoppers 30% off sale purchases and an extra 50% off final sale items. Use the code 'FESTIVE' on JCrew.com to snatch these deals before they're gone. 
Superdry USA: Superdry's three day "Pre-Thanksgiving Sale" will commence on Nov. 19 and end on Nov. 21. Shoppers will save 30% off their entire purchase during sale dates, according to the outerwear store's Facebook page. 
BJ's: BJ's Wholesale Club offers shoppers deals like $400 off memory foam queen-size mattresses as part of their early Black Friday sale. The online and in-store sale started on Nov. 18 and will end Nov. 28.