Barack Obama gave Malia and Sasha Obama these wise words after Donald Trump's election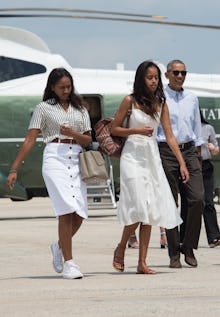 Aside from being the commander in chief, Barack Obama is also the country's first dad. And that means having tough conversations with your children about what's going on in the world. In a recent New Yorker profile of the outgoing president, the magazine revealed how Obama comforted his daughters, Sasha and Malia after Donald Trump's election. 
"What I say to them is that people are complicated," Obama told the New Yorker. "Societies and cultures are really complicated. This is not mathematics; this is biology and chemistry. These are living organisms, and it's messy. And your job as a citizen and as a decent human being is to constantly affirm and lift up and fight for treating people with kindness and respect and understanding." 
He added, "And you should anticipate that at any given moment there's going to be flare-ups of bigotry that you may have to confront, or may be inside you and you have to vanquish. And it doesn't stop. ... You don't get into a fetal position about it. You don't start worrying about apocalypse. You say, 'OK, where are the places where I can push to keep it moving forward.'" 
Obama is one of the many parents of color who have struggled with what to say to their children after the election of Trump, who has enjoyed the support of people like KKK grand wizard David Duke and who has spoken openly about grabbing women without their consent. 
Trump's comments about groping led to an impassioned speech from first lady Michelle Obama. 
"This was not just a lewd conversation. This wasn't locker room banter," Obama said at a Hillary Clinton rally in October in New Hampshire, a state she ended up carrying by a razor-thin margin. "This was a powerful individual speaking freely and openly about sexually predatory behavior, and actually bragging about kissing and groping women, using language so obscene that many of us are worried about our children hearing it when we turn on the TV." 
It seems both mom and dad aren't bad when it comes to pep talks.