Chrissy Teigen slams Trump's demand for an apology from the 'Hamilton' cast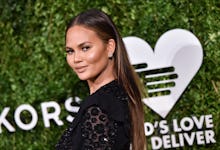 Model and Twitter enthusiast Chrissy Teigen emerged from the sanctuary of the social media platform's "private" setting Wednesday to administer a takedown of President-elect Donald Trump's insistence that the cast of the musical Hamilton apologize to Vice President-elect Mike Pence.
"Look who wants a fucking safe space now," she tweeted, according to screen grabs obtained by the Hill. "The very thing him and his supporters make fun of as liberal political correctness. God, what a POS."
Pence, who attended a performance of the hit Broadway musical in New York City on Friday night, was booed by audience members and personally addressed by the show's diverse cast during curtain call.
"We truly hope that this show has inspired you to uphold our American values and to work on behalf of all of us. All of us," said actor Brandon Victor Dixon, who plays Aaron Burr. "Again, we truly thank you for sharing this show, this wonderful American story told by a diverse group of men and women of different colors, creeds and orientations."
But rather than address the cast's call for unity and protection for all Americans, Trump tweeted Saturday morning to admonish the performers for "harassing" Pence.
In her tweetstorm, Teigen claimed Trump's messages were no more than a thinly veiled attempt to distract from news that broke Friday of the $25 million settlement deal he had reached in the fraud cases against the failed Trump University.
"Donald knows very well what he is doing," Teigen tweeted. "He knows the Hamilton speech was NBD. He knows his tweet will fire both sides up to distract from the $25 million-dollar settlement of yesterday. Most conniving human on planet Earth."