Black Friday Coupons 2016: Printable deals you can't miss this holiday season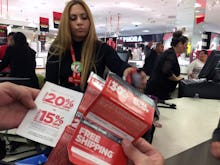 If you're one of the brave souls willing to wait until midnight to save some bucks on your holiday shopping haul, at least go into it prepared. Some stores, like Walmart and Target, already have their entire circular online for shoppers looking to plan their hunt ahead of time.
Before venturing out to the Black Friday madness, check sites like RetailMeNot and Groupon for more deals.
Costco
BFAds.net posted a scan of the upcoming Black Friday deals — eight pages of them — from Costco. From TVs and laptops to sweaters and DVDs, Costco will be serving up price cuts on in-store items until Nov. 28. Shoppers who are not Costco members are still eligible for these deals but will be issued a surcharge, according to BFAds.net. 
Walmart
Walmart shoppers can now view the department store's Black Friday circular on its website. 
Target
Target's 33-page Black Friday sale circular is online for shoppers to peruse before the big day. Deals include buy one, get one 30% on iTunes gift cards.
Sears
Sears has a long list of Black Friday savings, and will throw a few more into the mix on Thanksgiving Day. A printable version of the store's 30% coupon on a purchase of $50 or more is available on TheBlackFriday.com. For online purchases, the coupon code is BF2016.
Office Depot
Office Depot released a PDF version of their Black Friday savings on supplies on their website. By printing these coupons, shoppers can save 20% off a $50 purchase of holiday cards and calendars, and 50% off canvas printing.