Fifth Harmony's Lauren Jauregui just came out as bisexual in open letter to Trump voters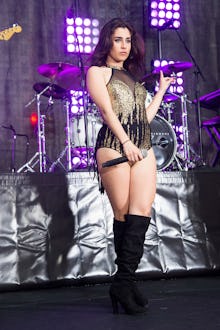 Fifth Harmony star Lauren Jauregui just used her anger to do something positive: increase bisexual visibility. 
In an open letter published on Billboard, the Cuban-American singer wrote to Trump supporters "trying to say that voting for Trump does not mean that you are racist, homophobic, sexist, xenophobic assholes." 
She calls their words "worthless" and says that Trump voters' actions have "led to the single-handed destruction of all the progress we've made socially as a nation." 
After a defense of political correctness — or what she calls "social etiquette" in the letter — Jauregui delivers the news unequivocally: 
I am a bisexual Cuban-American woman and I am so proud of it. I am proud to be part of a community that only projects love and education and the support of one another. I am proud to be the granddaughter and daughter of immigrants who were brave enough to leave their homes and come to a whole new world with a different language and culture and immerse themselves fearlessly to start a better life for themselves and their families.
Jauregui also spoke specifically about being proud to be a woman and the relative privilege she enjoys compared to other women and Latinos: 
I was born with a lighter complexion and green eyes (thanks genetics) so from that narrow-minded perspective, I'm white. I have experienced the privilege those genes have granted me, and I am grateful and will continue to speak on behalf of the women around the world and in our very own country who do not experience a fraction of that respect because of the color of their skin or what they choose to wear, or how their hair looks, or how much makeup they have on or any other absurdity that we women are reduced to.
Jauregui ended her note with two suggestions to Trump supporters. 
"If I could tell every Trump supporter two things, it would be to travel and read a history book," she wrote. "Look beyond yourselves, look at how petty the morals you uphold seem when you realize we are not the only ones." 
Coming out is always both personal and political. Announcing your identity to the world is something people of privilege almost never have to deal with. Because bisexual people often have to deal with bi erasure — meaning their identity is often ignored or erased from discussions of the queer community at large — Jauregui's announcement is even more exciting and necessary.