Anti-fascist protesters descend on white nationalist conference in Washington, DC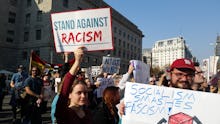 Anti-fascist demonstrators descended upon the Ronald Reagan Building in downtown Washington, D.C. on Saturday to protest a conference held by the National Policy Institute, a white nationalist think tank headed by supremacist Richard Spencer.
Spencer and other prominent far-right activists, including British-born paleoconservative Peter Brimelow and anti-Semitic retired professor Kevin MacDonald, were joined by hundreds of attendees. Outside, dozens of demonstrators chanted "we don't want a white state, we say no to racist hate" and "go home Nazi scum."
Police detained at least two people after one of the white supremacist activists emerged and began filming and taunting the protesters, leading to a fight.
Inside, Spencer painted the protesters as the real "fascists" attempting to prevent members of the movement from meeting. He also praised the election of Republican President-elect Donald Trump as the dawning of a new era for the loosely organized, mostly digital collective of far-right and white supremacist activists sometimes referred to as the alt-right.
"The Trump movement was kind of a body without a head," Spencer said. "The alt-right, as an intellectual vanguard, can complete Trump."