More than 100 people killed after train derails in northern India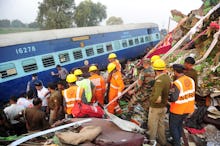 More than 100 people were killed and 150 more were injured after a train jumped the tracks in northern India on Sunday, Al Jazeera reports. The accident is reportedly the worst of its kind to hit the country since 2010.
AFP reports that many passengers were asleep when the train, which was traveling from the northeastern city of Patna to the central city of Indore, derailed in Uttar Pradesh at around 3 a.m. local time.
"I woke up suddenly around 3:10 a.m. and felt a tremor," one survivor, Yaqoob Ahmed, told the Hindustan Times. "The train came to a screeching halt. All of a sudden, I was crushed under a crowd of people ... everyone was screaming for help."
Authorities are reportedly looking into whether or not a damaged span of track might have helped to cause the incident.
"A lot of teams are currently there including local police, doctors and members of the National Disaster Response Force." Daljit Singh Chawdhary, the additional police director general of Uttar Pradesh state, told AFP. "The rescue operations are on."
Al Jazeera reports that Nitika Trivedi, a student who had been on the train with her family, said that it will be hard to forget the carnage she witnessed.
"I had never seen anything like this in my life before," she said. "I am shaken to the core."