Alec Baldwin's latest Donald Trump 'SNL' impression made the real Trump very angry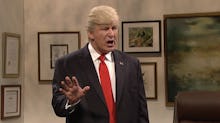 Sandwiched in between tweets about the "patriots" vying for appointments to his cabinet this week, President-elect Donald Trump took time to give his opinion on a matter of equal import to the American people on Sunday: the lackluster comedy of Saturday Night Live. 
"I watched parts of @NBCSNL last night," Trump informed the nation in a tweet. "It is a totally one-sided, biased show - nothing funny at all. Equal time for us?"
Trump was most likely referring to the show's cold open for Saturday's episode, which featured actor Alec Baldwin performing his bumbling, boorish and now indefinitely recurring impression of the president-elect.
In the sketch, a freshly elected Trump is coming to grips with the idea that he will actually have to lead the nation, which includes making good on promises he made on the campaign trail.
At one point during the sketch, a military general strides into Trump's office to proclaim his excitement at the prospect of finally hearing the details of the "secret" plan to defeat the Islamic State that Trump had boasted about in the run-up to the election.
"We've been stuck fighting ISIS in Jabhat al-Nusra for six years now, so when we found out that you had a secret plan, it really energized us," the general says.
"That's right... a plan...very secret." Baldwin-as-Trump replies, before diving onto his laptop to Google, "What is ISIS?"
But the real Trump was apparently not amused by the bit, calling into question the show's willingness to provide, as he said, "equal [air]time for us?" —potentially a reference to the show's generally left-leaning inclinations — to which Baldwin himself responded, "Equal time? Election is over. There is no more equal time. Now u try 2 b Pres + ppl respond. That's pretty much it."
The tweet kept the ball rolling on what has been a tumultuous weekend for Trump and the New York City performing arts scene. 
On Friday night, Vice President-elect Mike Pence was booed by audience members while attending a performance of the hit Broadway musical Hamilton, followed by an earnest appeal from the cast to pledge to champion the rights of all Americans during the curtain call. Trump fired off a series of tweets on Saturday and Sunday demanding that the cast and producers "Apologize!" to Pence immediately and calling the show "highly overrated."
While the Hamilton dust-up sparked a firestorm of opinions, it's worth noting that SNL has a storied history of presidential mockery that tends to not be reserved solely for the Republicans who hold the office.
During a stump speech for then-Democratic presidential candidate Hillary Clinton in October, President Barack Obama joked that Trump's tendency to let the late-night show offend him did not indicate the proper temperament to hold the presidency.
"Anybody who is upset about a Saturday Night Live skit, you don't want in charge of nuclear weapons," he said.