Arrests follow White Lives Matter protest in Austin, Texas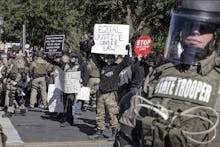 A White Lives Matter protest in Austin, Texas, Saturday ended in eight arrests, CBS reported. 
Supporters of the neo-Nazi group clashed with counter-protesters at the unveiling of the Texas African American History monument on the lawn of Austin's capitol building. As local CBS affiliate KEYE TV reported, the "several dozen" White Lives Matter demonstrators had convened to voice their discontent with hate crime laws. 
While the rally would seem to have been a statement against the African American History monument, one WLM protester told KEYE TV that their demonstration had been on the books for "over a month," and the fact that it fell on the same day as the ceremony was a "total coincidence." 
A Nov. 18 post on the Facebook event page for the "equal justice under law" rally predicted it would be "the biggest yet," but according to ABC affiliate WFAA 8, counter-protesters with Stop Fascism Austin turned out in far greater numbers than did WLM supporters. Still, WLM participants on Facebook declared the event a success. 
"Really what we are here today for is to protest against unequal application of hate crime laws," Scott Lacy — a member of the Aryan Renaissance Society in addition to WLM — told KEYE. 
"In Texas about 68% of all crimes that have been labeled hate crimes, whites are the ones being charged for them," he added.
Texas defines a hate crime as motivated by "the defendant's bias or prejudice against a group identified by race, color, disability, religion, national origin or ancestry, age, gender or sexual preference." 
In 2015, the most recent year for which data is available, there were 193 hate crimes reported in Texas. Nearly 56% of those were racially motivated, most often out of bias against African-Americans. It's worth noting that the Southern Poverty Law Center added WLM to its list of hate groups in August. 
According to CBS, the WLM faction came bearing signs with slogans like, "hate crimes for one, hate crimes for all, equal justice under the law." Counter-protesters, meanwhile, yelled "Nazis get out," carrying signs that said "Stand against hate" and "Black Lives Matter." 
Both local police and state troopers, clad in riot gear, were on the scene to keep the two sides apart. Four of the eight arrests were assault-related, one was for disorderly conduct and another for a protester's "interference with public duty," CBS reported. Texas Department of Public Safety spokesperson Sgt. Victor Taylor wasn't able to say whether or not the people in custody were WLM supporters.  
"Some protesters assaulted other protesters," he said, according to CBS. "We don't know for sure which side they were on. A lot of them were co-mingled."