Hundreds join #JewishResistance protest against Trump chief strategist Steve Bannon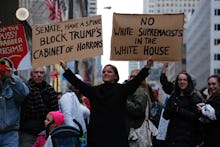 On Sunday, hundreds of Jewish protesters took to the streets of New York City to protest Steve Bannon, President-elect Donald Trump's newly appointed chief strategist and alt-right instigator. 
The demonstration, organized by IfNotNow, was to protest Bannon's scheduled speech at the Zionist Organization of America's annual gala. According to Haaretz, Bannon did not show up to the event. 
Protesters, who used #FireBannon and #JewishResistance on Twitter, were calling on Trump to rescind Bannon's appointment.
Bannon, who can be credited with turning Breitbart into a haven for anti-Semites, racists and white nationalists, was appointed to one of the top spots in Trump's administration Nov. 13. The Anti-Defamation League referred to Bannon as "chief curator for the alt-right."
In a statement on their website, IfNotNow called Bannon a "a white nationalist who has built a political career out of demonizing Muslims, immigrants, women, the LGBTQ community and Jews":
The Jewish community knows what it means to be vulnerable and have our identity be targeted. We know that state-sponsored violence is not a combustion of flames but a slow onset of sparks. We will not be silent as Trump stacks his administration with those who will endanger us as Jews along with Muslims, immigrants, women and people of color.
In one video from the protest, the New York City Police Department threatens to arrest protesters for disorderly conduct and are met with boos. 
Protesters marched in solidarity with Muslims and other marginalized groups. 
Since his victory, Trump has done little to assuage the fears of those he targeted during his campaign, appointing men like Bannon and Jeff Sessions — who has been repeatedly accused of making racist remarks — to top spots in his administration.
Trump has remained mum on accusations that Bannon is an anti-Semite, but a representative for the president-elect said Bannon is "a fantastic example of really being inclusive. Someone who's embraced diversity at every step." 
Nov. 21 9:50 a.m.: This story has been updated.