Billboard combining Trump slogan and famed civil rights image angers Mississippi community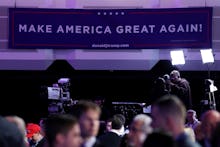 Pearl, Mississippi, residents are confused — and some are angry — about a billboard by the super PAC For Freedoms.
The billboard includes the slogan "Make America Great Again," made famous by President-elect Donald Trump, superimposed over an iconic image from the civil rights movement. 
The original image, titled "Two Minute Warning," taken by photographer Spider Martin, shows civil rights leaders — including current Georgia Rep. John Lewis — and police officers in Selma, Alabama, moments before the event known as "Bloody Sunday" in 1965. Images from that day show how peaceful marchers were attacked by officers attempting to disperse them.
The combination of Trump's message on the billboard and the image of social strife have led many to wonder about the billboard in their community of about 26,388 residents that sits just a few miles east of the capital of Jackson. They took their thoughts to Twitter.
Mississippi Gov. Phil Bryant didn't mince words when discussing the billboard. "It's disappointing that this group would use this image as an attempt to divide the country," he said of For Freedoms.
Those who defend the billboard say For Freedoms is exercising their First Amendment rights to free speech. Both Pearl Mayor Brad Rogers and Lamar Advertising have said the message doesn't violate any laws or doesn't present any vulgar imagery, and should remain in place.
According to For Freedoms, its intent was to spark engagement and conversation. "What we're trying to do is use art to provoke people to talk about these things and bring them to a different kind of conversation, one that goes beyond symbolic gestures of what America is supposed to stand for," For Freedoms co-founder Eric Gottesman said, according to CNN.
Hank Willis Thomas, another co-founder of For Freedoms, said the ad has been misinterpreted as pro-Trump, and was meant to challenge the idea of empty rhetoric. "I really want us to start to ask harder questions like, 'Well what do you mean when you say make America great again?'" he said.
On its website, For Freedoms touts itself as "the first artist-run super Pac" that "aims to subvert a 'Rockwellian' nostalgia for a 'simpler' America while co-opting a visual language that is accessible to a wide audience of viewers."
"For Freedoms" is a play on President Franklin Roosevelt's concept of Four Freedoms, which are freedom of speech, freedom of worship, freedom from want and freedom from fear. Artist Norman Rockwell depicted each freedom in famous paintings that were published in the Saturday Evening Post in 1943.