Chrissy Teigen gets real about what a person has to do before wearing a super high slit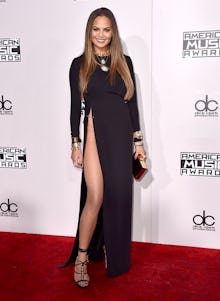 To the American Music Awards on Sunday night, model Chrissy Teigen wore a long-sleeved black dress with a slit way up to there, only held together with a safety pin. 
And by "up to there," we mean basically up to her ribcage. 
It was like Teigen's answer to Angelina Jolie's iconic outstretched leg at the 2012 Academy Awards. It was also quintessentially Teigen not only because it was fearless but because, as with anything Teigen does, it came with a powerful, wholly necessary message: This isn't as easy or sexy as it looks, folks. 
A few hours before the AMAs, Teigen tweeted out a cryptic message to her followers, alluding to a nearly-there gown. 
"I shaved above the knee today so yes it is a big day today," she wrote, sending her more than 2.8 million fans into a tizzy over what Teigen was going to wear. 
A few minutes later, after a fan responded with "we about to see some SKIN," Teigen got cheeky once more, writing, "It's pouring and cold out so you are prob gonna see more than that." 
For those that follow Teigen on Twitter or Instagram, or really have ever seen an interview with her at all, this refreshing bluntness should come as no surprise. After she had her baby, after all, she openly talked about having to wear diapers after childbirth and her powerful breasts. 
So it's only really natural for Teigen, particularly on a day when so many celebrities try to evoke the idea that they really just woke up like this, to be like, "No, no I did not." 
After fans saw Teigen's ensemble, she told them straight up: "It took an hour." 
So, not only do we applaud Teigen on this daring look, but also for continuing to keep it real.