2016 AMAs go political: Green Day blasts Trump, Gigi Hadid's Melania impression and more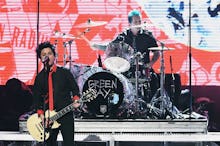 After an event as cataclysmic as promoting Donald Trump from reality TV star to president of the United States — a candidate that so much of the music world tried desperately to warn the American people not to fall for — it's hard to talk about anything else.
Sunday night's American Music Awards were no exception. The show, ABC's answer to the Grammys, was one of the most political in recent memory, with artists riffing on the election and its violent fallout in various ways. It started off in the opening monologue, with hosts Jay Pharoah and Gigi Hadid attempting impressions of the Trumps. It continued into performances, as well as speeches by Idina Menzel and Sting. 
Here's a round-up of the show's nods to the dismal state of 2016 politics. 
Jay Pharoah and Gigi Hadid impersonate the Trumps.
Right off the bat, Hadid joked with the audience describing the show's voting system. "Millions of people cast their votes and tonight we find out who you chose to win," Pharoah said.
"But do not worry, tonight we do not have to deal with the electoral college," Hadid quipped back. She later tried out her Melania Trump impression, mocking the plagiarism accusations that followed her after the Republican National Convention. 
Pharoah tried his hand at Trump as well.
"I love Bruno Mars," he said in a passable Trump. "I don't know what color he is so I can't deport him ... I love 'Uptown Funk.' It was all totally about me, it was originally called 'Uptown Trump.' I'm gonna funk this country up bigly." 
Idina Menzel riffs on Mike Pence seeing Hamilton.
Presenting alongside Mark Cuban, one of Trump's most vocal critics from the business world, Broadway star Idina Menzel got an excellent dig in at Trump's apparent outrage at seeing his Vice President-elect Mike Pence get called out onstage while attending a performance of Hamilton in New York City on Friday.
The Hamilton cast addressed Pence who was sitting in the audience, sharing their fears that "your new administration will not protect us, our planet, our children, our parents, or defend us and uphold our inalienable rights" as diverse Americans. The address and the boos sent Trump into a frenzy on Twitter, demanding an apology.
At the AMAs the two presenters shared a chuckle over the likelihood that "unsafe, scary theater people wouldn't be invited to the inauguration," as Menzel phrased it before professing her love for the theater's bold move: "I love you, Hamilton!"
Green Day throws up an anti-fascist, anti-Trump protest chant.
Even through Trump is a vocal supporter of Green Day's work, the band saw no reason to return the compliments during their AMA performance. During a performance of their song "Bang Bang," Billie Jo Armstrong changed the chorus to a stirring protest chant: "No Trump, No KKK, no fascist USA."
It's hardly the first time Armstrong has spoken out on the issue. During a November interview with Konbini, Armstrong explained how Trump pulled the win.
"He was smart enough to know: If I just keep to my reality star hooks, eliminating one person at a time just like I do on my show, and using vulgarity and saying stupid things about minorities — I'm going to get what I want," Armstrong said. "Because people love a fucking asshole."
Sting celebrates what really makes America great.
The AMAs honored British rock star Sting by presenting him with the 2016 Merit Award and lending him the stage for a three-song medley. Afterwards he took a moment to address all that American music, specifically rock 'n' roll, has given to his life. In doing so, he slyly slipped in some thoughts on what exactly has made America great.
"The doors were always open to all comers," Sting said of the U.S. "And the spirit of welcome and inclusion is what made this country the greatest in the world. I thank you again for this honor, and promise you that while I may be an Englishman in New York, my musical soul is all-American."