Police targeted DAPL protesters with water cannons in below-freezing temperatures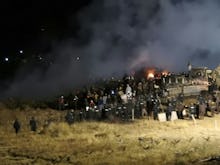 While temperatures near Standing Rock Reservation were below freezing Sunday night, Morton County, North Dakota, police officers reportedly used water cannons and rubber bullets on unarmed protesters as they faced off again over the planned Dakota Access pipeline, according to activists at the scene. 
The incident occurred at Backwater Bridge, which had been barricaded by law enforcement, the Washington Post reported on Monday. It's just the latest report of local police using aggressive force against the Sioux tribes and their allies, who are protesting the plans to drill an oil pipeline near native land, potentially threatening sacred sites and putting local drinking water at risk.
Activists say the barricade at Backwater Bridge blocks emergency vehicles from reaching encampments where protesters have gathered.
According to the Bismarck Tribune, about 400 protestors gathered at the bridge on Sunday night. Dallas Goldtooth, an organizer with the Indigenous Environmental Network, told the Tribune that police used a water cannon, tear gas and rubber bullets on protestors, some of whom set fires to help warm up the people who had been sprayed with water. The temperature at the time was in the 20s. 
A spokesperson for the Morton County Sheriff's Department reportedly confirmed to the Tribune that water had been used for "crowd control" and to put out fires. Police also said that protestors had thrown rocks at law enforcement.
A Facebook Live video taken near the scene showed the crowd gathered near the bridge. At one point the witness speaking during the live video said that people, unable to move left or right while on the bridge, were breathing in large amounts of tear gas.
Goldtooth said first responders from local reservations were helping provide medical care to protesters who had been injured.
Rema Loeb, an 83-year-old who came from Massachusetts two weeks ago to join the protesters at Standing Rock, told USA Today he had to leave Backwater Bridge on Sunday night because he was afraid of what might happen were he hit with the water cannons on a frigid night. 
"It's been just horrible," Loeb said.
According to ABC News, activists have reported that 167 people were injured Sunday night and seven were hospitalized with head injuries.
The Morton County Sheriff's Department could not be reached for comment.