Thanksgiving TV episodes on Netflix: Watch 'Friends,' 'Buffy the Vampire Slayer' and More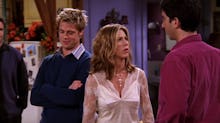 Thanksgiving weekend can be a long one, especially if you're traveling home to visit family and old friends. In honor of the holiday, of the time you may want to spend with your loved ones or a time better off spent cooped up in your room alone, we've put together a list of some of TV's best Thanksgiving-themed episodes on Netflix. Some will be of the lighter fare, like Friends and Gilmore Girls, while others, well, maybe it's better that you watch Mad Men's season one finale by yourself. Anyway, here we go. 
Bob's Burgers season three, episode five: "An Indecent Thanksgiving Proposal"
The episode is as weird as it gets. Bob decides to rent out his family to Mr. Fischoeder, their landlord, for the holiday. Why does he do it? He's promised five months free rent. Bob plays Mr. Fischoeder's cook, and immediately starts to regret not being able to spend the holiday with his family. That's when things get weird. Lonely in the kitchen, Bob drinks absinthe and his hallucinations cause him to talk to the turkey. Bob's Burgers is always delightful, but this Thanksgiving episode is truly strange and special in its own way. 
Buffy the Vampire Slayer season four, episode eight: "Pangs"
While many have problems with the later episodes of Buffy, a highlight is definitely "Pangs," an episode where Buffy goes up against a vengeful spirit of the Native American Chumash tribe. In addition to the foe, undoubtedly angry for being wiped out by white settlers, the episode also sees a growth in the relationship between Xander and Anya, as well as Spike's slow movement into antiheroism. Most significantly, however, is the return of Angel, who comes back to Sunnydale after learning from a friend that Buffy may be in danger. Angel is seen by everyone in the show except for Buffy herself. It's one of several "pangs" in the episode.
Crazy Ex-Girlfriend season one, episode six: "My First Thanksgiving With Josh"
Rebecca Bunch has moved to West Covina, California, and is doing everything she can to get Josh Chan's attention. She schemes with Paula to get invited to his family's Thanksgiving dinner, where Josh's girlfriend Valencia will be, and proves to be a hit with his family. Valencia, on other hand, is not, and her insecurity leads to Josh proposing they move in together — much to Rebecca's chagrin. Defeated, at least for the night, she meets up with Greg, who spent the day thinking he might get out of town only to realize it can't quite happen. Although an early Crazy Ex-Girlfriend episode, by now we get the sense that nothing will ever goes the way Rebecca hopes — a perfect metaphor for Thanksgiving, which is never as innocuous as it may seem.
Dexter season four, episode nine: "Hungry Man"
The episode is alone worth it to see John Lithgow as Arthur Mitchell, one of the most horrifying serial killers in the Dexter world. Dexter joins Arthur and his family for dinner, and sees his dark side for the first time. When Dexter tries to defend Arthur's son, Arthur also sees something in Dexter. The episode plays out as game, one that foreshadows the season's devastating season finale. It's certainly a less appetizing alternative to what you'd expect for the holiday, but that may make it worth your while.
Friday Night Lights season four, episode 13: "Thanksgiving" 
The beginning of season four of Friday Night Lights doesn't give much hope to the new cast of characters that Coach Taylor tries to help. In "Thanksgiving," the season finale, things are finally starting to turn around for the students at East Dillon High School. The Lions, East Dillon's football team, are also finally getting a lucky break. An episode highlight, however, is seeing the growing relationship between Michael B. Jordan and Jurnee Smollett-Bell as Vince and Jess, respectively. A bulk of the episode shows Coach Taylor deciding not to humor Vince's insecurities, but the final moments, where we see Vince and Jess spending a swoon-worthy holiday together, makes "Thanksgiving" a memorable finale. 
Friends season one, episode nine: "The One Where Underdog Gets Away"
Every season of Friends has its own Thanksgiving episode, but the first one is special. It's special because everything, naturally, goes wrong. Rachel is supposed to go to Vail, Colorado, with her family, and Monica decides to prepare a meal at her place for her friends and family. When there's miscommunication between Rachel and Monica, they end up getting locked out of their apartment. Not only does Rachel miss her flight, but all the food burns. Ultimately, Chandler, who never liked the holiday in the first place, invites everyone over to enjoy his specialty: grilled cheese sandwiches and tomato soup.
Friends season eight, episode nine: "The One With the Rumor" 
For those nostalgic about the relationship between Brad Pitt and Jennifer Aniston, and there are a few of us, "The One With the Rumor" is a pretty wonderful feat. Pitt joins the group as Will, a friend of Monica and Ross from high school. To Rachel's confusion, Will is incredibly hostile to her and we learn that Ross and Will were the masterminds behind a terrible rumor about Rachel back in their high school days: that she is a hermaphrodite. It's the kind of ridiculous (and offensive) bit that makes for a pretty scandalous episode, which is ultimately enjoyable if only because we get to see the then-married couple play nemeses. It's also tragic in that, you know, just a few years later Mr. & Mrs. Smith was released. 
Gilmore Girls season three, episode nine: "A Deep-Fried Korean Thanksgiving"
If you've watched Gilmore Girls long enough, you know the Gilmore women love to eat. Still, four different Thanksgiving meals prove to be too much, especially when Rory announces to her mother and grandparents she applied to Yale. It's a stab in the back to Lorelai, who has done everything in her power to steer her daughter away from her parents' wishes, and after having tofurkey at the Kims, an awkward meal with Luke and Jess, and a deep-fried Turkey with Sookie and Jackson, it's no surprise it all boils over.
Gilmore Girls season six, episode 10: "He's Slippin' 'Em Bread... Dig?"
It had been a couple of rough months for Lorelai and Rory, but what other way to celebrate the twosome on the mends than with a Thanksgiving episode, right? Sorta. Christopher's back, Luke's having some issues figuring things out with Lorelai about his daughter April, and then there's some Hep Alien drama that's not necessarily the most interesting, even though we love Lane. With the series just beginning to wrap up though, we'll treasure a meal between Rory and Lorelai at the Dragonfly Inn anytime.
Glee season four, episode eight: "Thanksgiving"
It doesn't matter that Glee was pretty much finished after the original cast graduated and scattered. The New York episodes may not be the most inspired, but in "Thanksgiving," we've got Sarah Jessica Parker! Parker plays Isabelle, Kurt's boss who encourages him to try and fix things with Blaine. If you've all but given up on Ryan Murphy's musical series, well, at least watch for Kurt/Blaine.
Gossip Girl season one, episode nine: "Blair Waldorf Must Pie"
The Gossip Girl Thanksgiving episodes are always among the best, but the first one is truly special. The episode goes between past and present. In the past, we see Blair trying to take care of a wasted Serena. It's all become routine for them, including a friendly (but maybe not so friendly?) bath fight between Blair, Serena and Nate. In the present, Dan has invited Serena and her family over for dinner, unaware that his dad and her mom have their own complicated history. Blair, on the other hand, is not excited when she learns her father isn't coming home for the holidays. Ultimately, amid all the chaos, the episode ends with each character learning something about the other. It's as happy as things ever get on the Upper East Side.
Gossip Girl season three, episode 11: "The Treasure of the Serena Madre"
As always, there's trouble with Serena. Chuck and Nate learn she is having an affair with Nate's cousin Tripp, who is running for Congress. Meanwhile, at a Van der Woodsen Thanksgiving, Serena learns a troubling secret about her mother, Blair tries to figure out if her mother is truly pregnant and Dan wrestles with his feelings for Vanessa. While it's all way off from the first Thanksgiving episode, in true Gossip Girl fashion, nothing stays hidden.
How I Met Your Mother season three, episode nine: "Slapsgiving" 
A recurring joke in How I Met Your Mother involves a bet Barney lost to Marshall. As a result, Marshall is allowed to, without warning, slap Barney. This tension, among a sexual one that exists between Robin and Ted, makes up "Slapsgiving," where Lily wants all her friends together for her first Thanksgiving married to Marshall. The highlight of the episode is the inevitable slap, and like Barney, we can't help but wait for it the entire dinner. Unlike Barney, however, we really enjoy it when it finally does arrive. 
Jane the Virgin season two, episode six: "Chapter Twenty-Eight"
The early episodes of Jane the Virgin season two see Jane and Rafael trying to work things out for their son, Matteo. In "Chapter Twenty-Eight," they argue over finances. Jane realizes her son is going to inherit millions and struggles with thoughts of him growing up spoiled. The two parents go back and forth with each other but it all comes to a close with a lovely Thanksgiving meal at the Villanueva home. Whether you're Team Rafael or Team Michael, at the end of the day it doesn't matter. We are all Team Jane and Matteo.
Mad Men season one, episode 13: "The Wheel"
While there are four Thanksgiving-related episodes in the Mad Men universe, two are truly remarkable. The first season finale of one of the greatest dramas of all times is an eye-opening one. Don Draper gives his iconic carousel speech to Kodak, but the most important development occurs when Betty learns that Francine's husband has been cheating on her. It allows the opportunity for Betty to take a long look at her own marriage, and after learning that Don has been conspiring with her psychiatrist, Betty finally seems to understand the problems with her husband.
Mad Men season six, episode 12: "In Care Of"
As many times as Don has hit rock bottom, he truly hits rock bottom in the sixth season finale. His drinking is out of control and his marriage to Megan is a sham. After his daughter Sally sees him having an affair with a neighbor, he doesn't even have his own kids on his side. Nevertheless, it all gets worse when he drunkenly massacres a Hershey pitch, leaving the team no choice but to fire him. The episode doesn't end with a lovely Thanksgiving meal, but is still heartwarming. Don takes his three kids to Pennsylvania, and the episode concludes with them looking at the once-brothel where Don grew up. A look he shares with Sally shows that she may finally be understanding why her father is the way he is.
Modern Family season six, episode eight: "Three Turkeys" 
It all begins with Phil deciding he wants to do Thanksgiving. Claire, anxious about letting her husband take charge, makes a turkey (turkey No. 2) of her own, just in case. When the family is forced out of their house after a fuse blows out, they plan on using Jay and Gloria's home to hold their dinner. Jay and Gloria had told everyone they were going to Mexico but actually wanted to spend the holiday alone at the house. When Phil, Claire and Co. arrive, they end up hiding in the closet, leaving their turkey (turkey No. 3) in the oven. Eventually the whole family gets together — including Cameron, Mitch and a troublesome Lily — and Gloria and Jay are forced to reveal themselves. Like all Modern Family episodes, the Thanksgiving one is overwhelming, layered, conniving, but ultimately just really heartwarming.
New Girl season one, episode six: "Thanksgiving"
New Girl's first Thanksgiving episode reveals what the sitcom does best: bringing all the guys together to have them work for and against Jess. In "Thanksgiving," Jess invites music teacher Paul — played by Justin Long — over. He's recently lost his grandmother, she has a crush on him and figures it'll all go fine. She's wrong. Schmidt is cooking, the turkey is being defrosted in the dryer, and Nick is rude to Paul despite Jess begging for her roomies to be nice to the boy she has a crush on. By the end of the episode, everything comes together — except for the turkey, which has been burnt to a crisp — and we get a first good look at the budding relationship between Paul and Jess. 
The Office season seven, episode nine: "WUPHF.com"
Traumatized that his family never let him be king of hay festivals, Dwight commits to throwing his own hay festival — in Dunder Mifflin's parking lot. This distracts Dwight from fulfilling his sexual contract with Angela, much to her disappointment. Meanwhile, in non-Thanksgiving related happenings, Ryan has an offer from Washington University Public Health Fund to buy his startup, WUPHF.com (they want the domain name). With the tensions of the possible deal affecting everyone, things come to a head between Michael and Ryan when Michael learns that Ryan was never too fond of him in the first place. Also, Kevin gets lost in Dwight's hay maze.    
Parenthood season two, episode 10: "Happy Thanksgiving"
For many it's a drag to see family drama — especially on the holidays. But Parenthood thrives when the Bravermans are at their tensest. The episode sees Adam struggling over his work, the type-A Julia getting into it with he type-A daughter Sydney, and Crosby, poor Crosby, try to suck up to his mother-in-law. Every Parenthood episode feels like it could be a family coming together for Thanksgiving, so when the holiday rolls around we the show's writers can't hold back.
That '70s Show season five, episode eight: "Thank You" 
Some may argue that That '70s Show overstayed its welcome, but throughout its run it managed to be a consistently and reliably goofy throwback. In "Thank You," Eric simultaneously tries to hide a failing grade from Red and tell his family and friends that him and Donna are engaged. Of course, the figure that the best time to do this is during dinner. What makes the episode standout is the return of Laurie, Eric's rebellious older sister who remains one of the most entertaining recurring characters on the long-running sitcom.
The West Wing season two, episode eight: "Shibboleth"
Right before Thanksgiving, a container ship arrives to the United States. One of them is holding 83 Chinese refugees, people who claim to be Christians fleeing the Chinese government. While the U.S. government decides what to do with the immigrants, President Josiah Bartlett struggles with what to do with two turkeys that C.J. has become attached to. Comically, and in The West Wing fashion, he decides to pardon one — as is tradition — and draft the other to the military.