'Pokémon Sun and Moon' QR Codes: Full list and how to use Island Scanner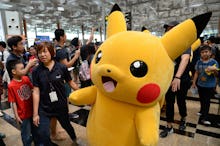 Pokémon Sun and Moon has already been out for a few days, but if you're having trouble tracking down a specific Pokémon, we're here to help. You might not know about it, but the Pokémon Sun and Moon QR code scanner can help you find pretty much any creature in the game, and even help you catch a few rare ones.
Pokémon Sun and Moon QR codes: How do they work?
Using QR codes in the Pokémon Sun and Moon is easy. You can find the new feature on the second page of the lower screen of the Nintendo 3DS. From there, use the 3DS' built-in camera to record a QR code. Even if it's not a Pokémon-related code, you should still get some sort of response, but only specially designed codes will help you find Pokémon.
Almost every Pokémon in Sun and Moon has a unique QR code. Once you scan that code into the game, the creature in question will show up in your Pokédex with information on where you can find them. You can also specify the gender of some Pokémon — or search for an extra-rare "shiny version."
Pokémon Sun and Moon also limits you to 10 QR codes per day. That may still sound like plenty, but if you're planning on binging through the entire list it will still take a while.
Pokémon Sun and Moon QR codes: Full list
Here's a full list of the Pokémon Sun and Moon QR codes that have been assembled on image-sharing site Imgur so far. The list includes 472 separate images — though they don't all feature QR codes. The final handful covering rare Pokémon like Lunala, Solgaleo, Magearna and the Ultra Beasts are all currently unavailable, though some of those legendary creatures may get their own QR codes later on.
Pokémon Sun and Moon QR codes bonus: Island Scan
Using Pokémon Sun and Moon QR codes may sound like a bonus already, but using the new feature actually unlocks an extra surprise. For every 10 codes you scan, you'll get a special "Island Scan" that can be used to track down rare Pokémon.
Here's how the Island Scan works. Once you activate it, a rare Pokémon normally not found in the game will spawn somewhere on the island where you are at that time. From that moment, you have an hour to track down the Pokémon and catch it. If you don't reach it in time or fail to catch it, you'll have to wait a full day to try using the Island Scan feature again.
There are a couple of things you can do to prepare for an Island Scan. First of all, make sure you have total access to the island before using this feature. It's also worth noting that you'll find more powerful Pokémon on the later islands in the game, so it might not be worth wasting your Island Scan on an early island if you don't have to.
Pokémon Sun and Moon: Everything you need to know
If you're serious about Pokémon Sun and Moon, you'll want to read up so you can be the best. Check out our guides for picking the right starter, Pokémon Sun and Moon cheats, using a damage calculator, how to catch the new legendary Pokémon, how to get Munchlax and picking between Pokémon Sun and Pokémon Moon.