2 police officers were shot this weekend in alleged targeted attacks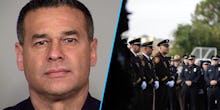 Two police officers in St. Louis and San Antonio, Texas, were killed in what were believed to be targeted attacks Sunday.
According to CNN, 50-year-old San Antonio Police Detective Benjamin Marconi was fatally shot by a man who he'd pulled over earlier for a parking violation. When Marconi returned to his squad car to write a ticket, authorities say a man approached the vehicle and discharged fatal shots to Marconi.
The suspect drove away and has not yet been identified or taken into custody by police, who have said they consider him "extremely dangerous" and a "clear threat" to both authorities and the general public. 
"[When] most families will be celebrating the holidays SAPD will be burying one of its own because of an ultimate act of cowardice by a suspect who will be caught and brought to justice," San Antonio Police Chief William McManus said later at a news conference, CNN reported.
Later Sunday night, a man pulled up next to an unnamed 46-year-old St. Louis sergeant and shot him twice in the head, according to CBS News. Police Chief Sam Dotson said the officer, a married father of three, had just been "driving down the road" when the man shot at him from inside his car. 
Authorities were able to track down the suspect who was ultimately shot dead in a shootout with police. The officer is expected to survive.
This weekend saw two other police shootings, injuring officers from Gladstone, Missouri, and Sanibel, Florida. However, the motivation behind these shootings remains unclear.
After this summer's fatal shootings in Dallas and Baton Rouge, Louisiana, which resulted in the deaths of eight police officers altogether, many people have been quick to cast blame on Black Lives Matter or claim a "war on police." Yet under President Barack Obama, police deaths have actually fallen, according to the Washington Post, which indicates that targeted police shootings are, in fact, rare. 
Accordingly, perpetuating a narrative that anti-police violence is more common than it is could ultimately do more harm than good, as the Post's Radley Balko pointed out in September 2015.
Wrote Balko, "When cops are constantly told that they're under constant fire, or that every interaction with a citizen could be their last, or that they're fortunate each time they come home from the job in one piece, it's absolute poison for police-community relations."