Green Day's Billie Joe Armstrong continues to deliver anti-Trump messages during AMAs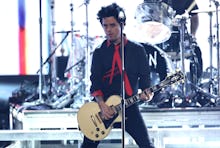 Green Day took the stage at last night's American Music Awards to perform their new song "Bang Bang." The group gifted viewers with a perhaps not-so-surprising lyrical addition. Midway through their performance, lead singer Billie Joe Armstrong shouted and repeated a message for President-elect Donald Trump: "No War! No KKK! No fascist USA!"
It's not the first time Armstrong has been vocal about his disdain for Trump. Earlier this month, at the band's performance at the 2016 MTV European Music Awards, Armstrong played around with the lyrics of "American Idiot," originally an anti-Bush anthem. He changed the "subliminal mind fuck America" to "the subliminal mind Trump America." Back in September, Armstrong first adopted this form of protest when he took the "pulverize the Eiffel Tower" lyric from "Holiday" and made it "pulverize the Trump Towers" at a New Jersey show.
Outside of Green Day's performances, the 44-year-old singer has been outspoken about the current political climate. He's voiced his opinion in interviews and on his Instagram, where he's uploaded several posts that make no effort to hide his anti-Trump sentiments. 
Speaking to the French radio station Konbini just after the election, Armstrong had a lot to say about about its outcome. "I feel like I have a hangover after drinking way too much poison," he stated. "Right now I feel like I'm just trying to process and trying to get a bit of clarity."
"The best thing we could do is try to write songs and play shows that hopefully can rally people, inspire people and unite people," Armstrong said. "Right now I think a lot of people might be looking for some escapism away from all that insanity."