A very Kardashian Thanksgiving: Here's what the krew might be cooking this year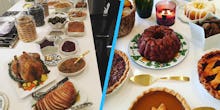 No matter how rich or famous you are, there's no replacing a homemade Thanksgiving dinner. And at Kris Kardashian's Calabasas mansion, Thanksgiving is on! At least, so we think. Rumor has it Kylie is hosting this year, but, come on, why not let mom deal with the clean up? Though we can't confirm what the Kardashian krew is cooking up this holiday, here are our best guesses to what the family of entrepreneurial reality TV stars are preparing to share at the Thanksgiving table. 
Kylie: Candied yams (and ramen, obviously) 
One of the first and only episodes of Cooking with Kylie featured her special recipe for homemade yams. The teaser video for the paywall-blocked recipe, published in February 2016, has almost half a million views, so we're guessing these yams are a crowd pleaser.  In addition to organic yams, organic brown sugar, organic cinnamon, organic freshly squeezed orange juice and organic coconut oil, Kylie tops her yams with Jet Puff marshmallows and Aunt Jemima Maple Syrup, because of course she does.  
But of course, anyone who knows Kylie knows about her serious ramen addiction, so be assured that she'll be hacking some Top Ramen this Thanksgiving by adding butter, egg and cheese. Whether she shares that with the fam or stuffs her face with the instant noodles in front of KUWTK reruns is up for speculation. 
Alternatively, this could happen:
Kim: Salmon, Brussels sprouts and a frittata with turkey bacon
Kim has (understandably) been silent on social media since the Paris robbery, but that doesn't mean she's not cooking for her fam. In Snapchats sent this past summer, Kim documented her healthy eating regimen with high protein, low-fat homemade-looking dishes like salmon and brussels sprouts and an egg white frittata with feta cheese and turkey bacon. Sure, she probably has a staff preparing it, but maybe she, North and Kanye sneak into the kitchen on Thanksgiving Day to put the final touches on their very California egg white holiday dish... 
Khloé: Some dumb fruit thing
Literally no one is looking forward to Khloé's dish, which will be some dull combination of frozen fruits arranged artfully to look their best for Instagram but not at all for taste. Oh cool, a pastel rainbow smoothie for Thanksgiving? Pass the mashed potatoes, please. 
The irony is that Khloé will be encouraging everyone to eat up, lest they forget that her new collection of Good American jeans are "body inclusive" and who cares if you pop open a button on your Thanksgiving pants because there's a pair of $169 Good Waist jeans waiting for you, sisters. *Kylie re-applies her lip kit and pretends to sip some of Khloé's dumb fruit creation, because she is nice*
Caitlyn: Starbucks
The I Am Cait star will surely make time to swing by Starbucks on her way to Calabasas for dinner with Kris, et al. The woman loves Starbucks! She'll order a holiday handcrafted beverage and a gift card for each daughter, but request her name on all of them. She may even live a lipstick mark for little Kylie, to denote her special no-whip skinny skinny (a Jenner special!) gingerbread latte. 
Kendall: Pizza
Let's not kid ourselves. Kendall Jenner has never cooked a single dish in her life. But it's no secret she loves pizza! From sharing a slice with her sister after bragging about not working out (ugh) to ordering New York City pies backstage before walking the Marc Jacobs show, this 21-year-old model is a pizza fiend. She's ordering pizzas for the Kardashian-Jenner Thanksgiving, and we can't say that's a terrible contribution. 
And while traveling to Thanksgiving via very normal private jet, the sisters may even indulge with some Popeye's fried chicken, because why not?
Kourtney's entire family is gluten- and dairy-free, meaning that everything you crave on Thanksgiving is banned in her house. Not to worry! She created a paywall-blocked extravaganza menu (access costs $2.99 for the month) detailing her plans for the gluten- and dairy-free Thanksgiving of your dreams. Sneak peak: The recipes include healthy creamed spinach, cornbread stuffing, gluten-free pumpkin pie and "my mom's sweet potato soufflé recipe," which is surprisingly different from Kylie's yams, using vegan butter and condensed organic coconut milk for sweetness. Surprisingly, no Manuka honey is used in any of Kourtney's recipes, but we're guessing she'll have a whole jar-full ready for drizzling at the table.   
Kris: Everything else from Costco 
Just like your average millionaire mom of social media moguls, Kris shops at Costco. It's her passion. "Costco is a passion," Jenner told the New York Times Magazine in May 2015. "Costco is like a massage... They have the most amazing dog beds, don't even get me started... During the summer, there'll be a fabulous surfboard. I don't surf, but I've got to buy a surfboard. I mean, that's how crazy I am." 
So expect Costco muffins and outdoor sports gear galore at the Kardashian-Jenner Thanksgiving. Oh, and everyone will be using silverware stored in this weird egg-shaped flatware contraption that Kris promotes. Lucky for you, the $13,000 (plus shipping) 24-piece cutlery set isn't sold out yet, so you can mimic the Kardashian-Jenner Thanksgiving table of your dreams. 
Oh, and Rob, absent from last year's Kardashian Thanksgiving is probably eating with Blac Chyna's family. Maybe. Does anyone even care where Rob eats his meals?
Happy Thanksgiving!