Thanksgiving 2016 TV Schedule: 9 Christmas movies and holiday specials to watch on Nov. 24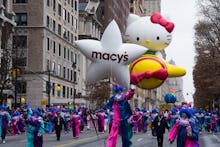 Yes, Thanksgiving is supposed to be about spending time with family while fighting for the last scoop of mashed potatoes. But what happens after the turkey coma kicks in? That's where the TV comes into play.
In a world where you can watch almost anything you want on Netflix, Hulu or Amazon Prime, nothing beats turning on the TV to find a classic Christmas movie or holiday special. Check out some of the best options for curling up on the couch while your dad gets into a heated argument with Uncle Jimmy about politics. 
Thursday, Nov. 24 TV schedule
Macy's Thanksgiving Day Parade (9 a.m. Eastern on NBC)
It's the 90th anniversary of the Macy's Thanksgiving Day Parade, and NBC is broadcasting the event starting at 9 a.m. Eastern on Thursday. Watch the balloons and check out performances from Tony Bennett, Sarah McLachlan, Grace VanderWaal and more.
Planes, Trains and Automobiles (11:30 a.m. Eastern on Comedy Central)
Steve Martin and John Candy star in this 1987 comedy about two strangers who team up to get home in time for Thanksgiving with their families. 
Home Alone (2:30 p.m. Eastern on HBO2)
Spend the holidays with the McCallister family. Eight-year-old Kevin ends up getting accidentally left behind by his family, who leave town to spend the holiday in France. Chaos ensues when two burglars try to break into what they believe to be an abandoned home.
The Family Stone (4 p.m. Eastern on Bravo)
Sarah Jessica Parker, Diane Keaton, Claire Danes and Craig T. Nelson star in this comedy about an offbeat family celebrating the holidays.
Once Upon a Holiday (4 p.m. Eastern on Hallmark)
You know the story — a royal princess goes undercover around the holidays and falls in love with an average Joe. The question is whether they can maintain their relationship after her secret is revealed.
Curious George: A Very Monkey Christmas (6 p.m. Eastern on PBS)
Settle the kids in front of the TV to sing some classic Christmas songs alongside George and the Man With the Yellow Hat.
A Christmas Story 2 (6 p.m. Eastern on CMT)
Loved Ralphie in the 1983 classic? Well, he's back in the 2012 sequel — although the film doesn't exactly have the same charm as the original.
A December Bride (6 p.m. Eastern on Hallmark)
Your cousin is getting married ... to your former fiancé. What do you do? Find a fake fiancé to bring as your date, of course!
Christmas at the White House: An Oprah Primetime Special (8 p.m. Eastern on OWN)
Curious as to how the White House prepares for the holidays? Check out this Oprah special, which was filmed in 2009 with President Barack Obama and first lady Michelle Obama.