Instagram update: Live videos and disappearing photos among new features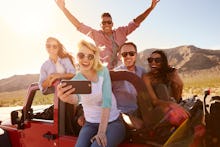 The photo-sharing app Instagram announced updated features on Monday, and they seem pretty familiar. With live videos on Instagram Stories and disappearing photo and video messages on Instagram Direct, it looks like Instagram is taking a page out of Facebook and Snapchat's books. 
Live video on Instagram
Instagram is getting into live video, just like its parent company, Facebook. When you create a live video, your friends may get a notification, Instagram says in a blog post.
The live videos will be included the app's new Snapchat-like feature called Instagram Stories. It allows users to draw and write on their photos and videos and post them to a separate section of the app where everyone can watch them. The images and videos disappear after 24 hours. If you have a public account, anyone can see your Instagram Stories regardless of whether or not they follow you.
Live videos can be broadcast in your Instagram Stories tab for up to an hour and people can comment and "like" the videos when they're live. If someone you follow is doing a live video, it will say "live" on their icon at the top of your feed. Once you finish broadcasting, the video will disappear from the app.
To start a live video, just swipe right from your Instagram feed and hit "Start Live Video."
This feature will start rolling out through the next few weeks. 
Disappearing photos and videos
Instagram's other new feature is pretty similar to Snapchat, in that it lets you create and send disappearing photos and videos to people. 
Using Instagram's messaging feature, Instagram Direct, you can take a photo or video, edit it by drawing on it or adding text, and send it to one person or a group of people. "When you get a disappearing photo or video from someone, their profile picture will appear at the top of your inbox with a colorful ring around it," Instagram says. You can only send disappearing images and videos to people who follow you. 
As on Snapchat, when someone has watched your video or viewed your photo, it will disappear. You can replay a photo or video or take a screenshot, but the person who sent it to you will be notified that you did so. 
This feature will start rolling out to users on Monday.