Will it snow in New York City? When to expect this season's first major snowstorm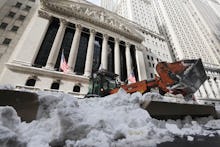 Winter is fast approaching, and many Americans felt colder temperatures across the nation this weekend. Several parts of the country had reports of accumulating snowfalls, but the Northeast especially saw some huge numbers. Parts of Pennsylvania, Connecticut, Massachusetts and upstate New York got hit hard, with snow accumulation reaching into the double digits in inches.
Winter Storm Argos hit much of the Northeast with heavy snow totals, including Susquehanna, Pennsylvania, with more than 15 inches of snowfall. Almost a foot of snow fell in Rochester, New York, and the central part of the state could be looking at 5 to 10 more inches in the near future. Binghamton and Syracuse are reporting up to 18 inches of snowfall so far.
Is NYC going to see snowfall soon?
With talk of snow in the area, many are wondering: When will snowfall hit the Big Apple? New York City has thus far missed out on the storms that hit northern parts of the state this weekend, but it's only a matter of time before snow hits ... right?
Yet this week doesn't look too promising. New York City is likely to see temperatures in the mid- to high-40s through Wednesday, and then the city will see temps climb their way into the 50s for the rest of the week into next.
Will it snow before New Year's?
Don't expect too much white stuff in New York City for the remainder of 2016. The Old Store Farmer's Almanac is suggesting that some snow could come in late November, but it will be light and mixed with rain, if anything.
And the Farmer's Almanac says more: "Winter temperatures will be above normal, on average, with the coldest periods in late December, early to mid- and mid- to late January, and early and mid-February."
As for snowfall? "The snowiest periods will occur in mid- to late January and early to mid-February," the Farmer's Almanac predicts.
You can take those prognostications with a grain of salt, however — not everyone backs the Farmer's Almanac predictions. AccuWeather, for example, is predicting a frequent amount of snow storms to hit New York City and its surroundings through spring. And hey — meteorologists aren't always right.
The typical time for snow in New York City
People who are hoping to play in the snow before the holidays may have to be patient: Significant snowfall doesn't usually hit New York City until mid-December. New York does get around 25 inches of snow annually on average, but "the city that never sleeps" typically sees less than half an inch of snow in November.
December isn't spectacular either: New York receives less than five inches on average, and usually gets less than three days of snow altogether. 
December is the time of year that New York City typically sees its first snowfall. Still, don't expect too much: snowfall in Central Park has only been about 5 inches on average in December for the past ten years, and only 2 inches on average for the past five years.
A lot of snow may indeed hit New York City this year, but predictions and historical numbers indicate that most of it won't come until after New Year's Eve. Don't be surprised if a small snowstorm comes about sometime in December, but don't hold your breath waiting for it, either.