How the Trump administration is forcing fashion to get political — and fast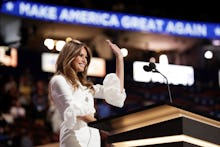 Before election night, the fashion industry — like Hollywood — had already, for the most part, taken sides. Designers Marc Jacobs, Public School, Tory Burch, Tanya Taylor and Diane von Furstenberg designed Hillary Clinton T-shirts. Fashion magazines like Vogue and W endorsed her and Ralph Lauren was making her custom suits. Hell, there was even a flashmob celebrating Clinton's signature pantsuits. 
But then, against the odds and predictions, Donald Trump won. And as a result, the fashion industry is now coming to terms with how they should approach dressing Melania Trump and her family, amid questions about what role fashion will play in this administration. 
Designer Joseph Altuzarra simply told the New York Times that this White House in particular "will have a different relationship to clothes" than the Obama administration and family, which seems quite obvious. What isn't so clear yet is just how wildly different it will be. 
In a recent indicator of what's to come, on Thursday, designer Sophie Theallet issued a statement via Twitter that said she would not be dressing Melania Trump or affiliating with her family. 
"As one who celebrates and strives for diversity, individual freedom and respect for all lifestyles, I will not participate in dressing or associating in any way with the next first lady," the statement read. "The rhetoric of racism, sexism and xenophobia unleashed by her husband's presidential campaign are incompatible with the shared values we live by. I encourage my fellow designers to do the same."
Although she's the first and only designer so far to specifically vow to never dress Melania Trump, she's certainly not alone in the fashion industry as someone who's hesitant about the family in general. 
Dao-Yi Chow, one of the designers at Public School, vented about the election on Instagram a few days before Theallet's statement. 
"Thank you America for the wake up call," he wrote. "Thank you for setting the record straight. Thank you for smashing the grace and beauty I grew up around so I could see how much work I have to do to educate my children so they don't get lulled to sleep like I did."
So while fashion seemed to quickly get on board with the idea of a Clinton presidency, it's obviously having trouble getting fully and publicly behind a Donald Trump one. Mic reached out to 12 designers — from Tanya Taylor to Prabal Gurung and Christian Siriano, all of whom happily dressed Michelle Obama in the past — and heard back only from about half, who said they weren't making any statements on the first lady at this time. 
So it seems as though the fashion world is still trying to figure out how to maneuver this tricky political situation. What's surely making it different and more difficult than previous White Houses is the divisiveness of the election itself, and of Donald Trump himself. As a result, Melania Trump, despite her background in fashion and modeling, doesn't have the fashion world — which is largely comprised of women, queer people and people of color — singing. 
Compare Melania Trump's position now to Michelle Obama back in 2008. Designers were clamoring for her attention, eager to design her custom pieces or have her wear some of their own, which helped Michelle Obama create a legacy of pushing little-known designers forward. 
"She walks out of the church and we realized, oh my God, it's my dress," Isabel Toledo, who designed Michelle Obama's Inauguration Day outfit in 2009, told ABC News of the moment she first saw the first lady that day. "... The gift that I was given, I can't own it. ... I can't hoard it, I think somebody else should really feel what I felt."
Imagine what kind of response a designer would get if they said the same thing about Melania Trump come Jan. 20.
The other issue for designers, and maybe even the American public, is that we still don't know Melania Trump. Clinton, meanwhile, has spent decades in the spotlight and has had longstanding relationships with designers like Ralph Lauren, as well as fashion gliteratti like Vogue's editor-in-chief Anna Wintour, so the fashion industry naturally felt more familiar. 
"Obviously [Melania] looks great, but I can't divorce it from who she is," designer Jeremy Scott told Vanity Fair. "I don't know Melania. We don't know Melania."
Throughout the campaign, Melania Trump remained relatively silent, only offering a few speeches here and there (which drew controversy, too, of course). "I chose not to be on the campaign," Melania Trump told Harper's Bazaar. "I made that choice." 
And because of that, people don't have a perception of who she is beyond beyond media appearances with her husband, which have shown her either defending her husband's actions or stumping for him. As the New York Times wrote last year, she's seen as a truly "silent partner."
It's not just designers, though — Melania Trump doesn't have too many powerful fans in the fashion publication world either. Case in point: Wintour. Not only did Vogue endorse Clinton before the election, which was the first time the publication had ever endorsed a presidential candidate in its more than 100-year history, but Wintour held a fundraiser for the campaign as well. 
The magazine had also featured Clinton various times before, with a cover in December 1998, which was reportedly pushed by designer Oscar de la Renta, who is Clinton's personal friend. 
Of course Melania Trump had her cover too, but that was back in February 2005, before her husband began his political career. So now there's a question as to whether or not the magazine will offer Melania Trump a new cover of her own, as first lady. 
During Michelle Obama's eight years as first lady, she got three covers (in 2009, 2013 and 2016), so if Melania Trump gets zero, that'd be a very obvious side eye to the Trump White House. 
That puts designers and the fashion industry as a whole in a tricky situation. Do they try to ignore Melania Trump, which would be a political statement, or do they do what they're asked and what's usually done, which could also be seen as a political statement of its own? 
They've really got until Jan. 20, Inauguration Day, to decide. 
Even with some designers saying outright that they will not seek to design a gown for, say, Melania Trump's first state dinner, and publications backing off of the Trump family (for now), other designers are already accepting of the fact that dressing a first lady like Melania Trump is technically a part of their jobs. 
"I don't want to not dress people I disagree with," designer Joseph Altuzarra told the New York Times. 
"It would be hypocritical to say no to dressing a Trump," Marcus Wainwright, the chief executive of the brand Rag & Bone, told the New York Times. "If we say we are about inclusivity and making American manufacturing great again, then we have to put that before personal political beliefs." 
Even Jeremy Scott conceded that he's going to "give Melania the benefit of the doubt," despite not agreeing with her husband's policies. "She looks good in clothes," he told Vanity Fair. "She wears them well, she's got a good figure." 
Amid all this tip-toeing, though, the Trumps have found at least one vocal champion in fashion, and his name is Tommy Hilfiger. On Monday night, the designer told Women's Wear Daily that designers should be proud to dress a woman like Melania Trump right now. 
"I think Melania is a very beautiful woman and I think any designer should be proud to dress her," Hilfiger told WWD. "Ivanka is equally as beautiful and smart, although she wears her own clothes. I don't think people should become political about it. Everyone was very happy to dress Michelle [Obama] as well. I think they look great in the clothes. You're not gonna get much more beautiful than Ivanka or Melania." 
Melania Trump may also have at least one ally at Vogue in André Leon Talley, former editor-at-large, who Melania Trump referred to as "my great friend" in a 2005 interview with Larry King.
"I had a great time in Paris. I went with my great friend André Leon Talley. He's an amazing man," she said, while also name-dropping Wintour. 
So, maybe the tide is turning in Melania Trump's favor. 
For those designers and elite members of the fashion industry who are more accepting of the idea of dressing and tending to Melania Trump, though, questions loom: If Donald Trump ends up fulfilling some of his most dangerous promises, will dressing his wife tarnish their careers? Will the public understand that creating custom gowns for high-profile clients is part of a designer's job? 
Regardless, it's important to remember one thing: Melania Trump is a very, very, very rich woman. 
Even if designers back away from her and she goes through her stint as first lady without a Vogue cover or feature, she will be fine. Over the course of the campaign, she has worn several designer pieces — from a $2,190 Roksanda dress she purchased herself on Net-a-Porter to a $1,100 Gucci blouse — without a designer coming forward to help her.
She doesn't, after all, need a discount or favor, and she could actually be sample size, so perhaps she doesn't even need designers to make her garments of her own for special events. Maybe she'll live and dress like she has for the past few years as the wife of a supposed multi-billionaire, buying full-priced pieces from Net-a-Porter and beyond. 
That actually may not be a bad thing, either, since buying off the rack (or online, in this case) is far more relatable to the average American than a designer custom-creating a gown. Though most women in America aren't putting $1,100 Gucci blouses into their carts, Melania Trump personally shopping for herself is a clear divergence from the usual relationship between teh first lady and the fashion industry as we know it. 
While Melania Trump's relationship with the fashion industry remains to be seen, if the "no comment" response we got from the many designers we reached out to is any indicator, it's already off to a tense start.