New York, Pennsylvania Snow Totals: Here's how the weekend's snowstorm stacked up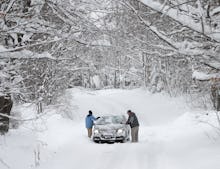 After ending last week with temperatures in the 60s and 70s, the Northeast has finally gotten its first taste of winter. Lake effect snow from Winter Storm Argos made its way to the eastern states late on Saturday, with some areas getting more than a foot of snow as of Monday morning.
New York
Upstate and Central New York faced much of the worst of this lake effect snow, with some areas reporting whiteout conditions and over 17,000 Rochester residents left without power. The highest totals were reported north of Syracuse, near Redfield, which got battered with 23 inches of snow.
Binghamton broke its record for single-day snowfall in the area on Sunday, with 17.5 inches of snow reported as of early Monday morning. The snowfall is more than half of the total amount of snow the city received during the entire 2015-16 snow season. Syracuse received 13 inches of snow, while the Rochester Airport reported 14.2 inches of snow as of 7:00 a.m. Monday. Lower totals were reported further from Lake Ontario, with Knox in Albany County receiving 7.8 inches of snow and Delanson in Schenectady getting 8 inches.
Pennsylvania
Areas of northern Pennsylvania near the New York border felt the storm's effects as well, with Susquehanna receiving 15.2 inches of snow as of early Monday. Sullivan County, which is just west of Scranton, received 8 inches of snow in Eagles Mere and 6 inches in Laporte, while further west, Chandlers Valley near the New York border saw 9 inch totals. Much of the state, however, had much less significant snowfall, with most counties reporting totals of three inches or less. The Weather Channel expects that northern Pennsylvania will continue to see light snow accumulations through Tuesday morning.