'SNL' mocked Tinder's update offering more gender options to trans users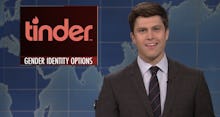 On Tuesday, Tinder announced it would be expanding its gender identity choices from "man" and "woman" to include a wider range of options. The update was intended first and foremost to improve the user experience for the dating app's transgender users, who were being repeatedly harassed and even banned from Tinder because of their identity.
Transparent producer Zackary Drucker explained the change was "empowering" to trans people like her, adding, "I think that many people will be opened up to the possibility of swiping right on an out trans person, and to have an expanded dating pool. We need more love in the world."
Somewhere in this heartfelt message, though, Saturday Night Live saw an opportunity for a joke.
"The dating app Tinder announced a new feature this week which gives users 37 different gender identity options," said Colin Jost, the show's "Weekend Update" co-anchor. "It's called 'Why Democrats lost the election.'"
Sam Escobar, a senior commerce editor editor at Bustle who is nonbinary, was among the first to bring attention to the supposed joke, which perhaps got buried under the noise of President-elect Donald Trump lambasting SNL for its "biased" representation of him.
In any case, Escobar called out the show for supporting the "erasure of non-cis people" and for "actively contributing to oppression." In an email on Friday, they said they saw the SNL bit as part of the post-election trend of some Democrats blaming marginalized people for Trump's victory.
"Many equate advocating for representation, acknowledgment and inclusiveness regarding gender with mere hypersensitivity or 'PC culture' — conservatives aren't the only ones who use this phrase when they're upset they can't say whatever they want," they wrote.  
On Friday, New York Times contributor Mark Lilla made the same kind of equivalence when he mused about the "end of identity liberalism." He argued that Hillary Clinton lost to Trump because she would often "slip into the the rhetoric of diversity" on the campaign trail. 
Lilla cited the debate over whether trans people should be allowed to use the bathroom that reflects their gender identity as a prime example of an issue that could "drive potential allies away."
"To paraphrase Bernie Sanders, America is sick and tired of hearing about liberals' damn bathrooms," Lilla wrote.
But Escobar said the importance of having politicians advocating for trans and nonbinary people can't be understated. "[It's] literally a matter of life and death," they wrote.
"[It's] literally a matter of life and death."
Yet, as Escobar had pointed out on Twitter on Sunday night, Jost and SNL writers didn't seem to understand what's at stake for these communities. What's more, they seemed to buy into a belief that issues affecting trans, gender nonconforming or nonbinary people were simply too "niche" to have broader appeal to the Democratic party.
"... To the people saying this is about how Dems tried to appeal to fringe issues: fuck you," Escobar tweeted. "LGBTQ people are citizens whose issues matter."
And Tinder agreed. Though the app's representatives wouldn't sound off on the SNL joke specifically, in a statement released to Mic, they wrote, "We started working on this update long before the election, but now more than ever we believe we have a responsibility as a global platform to send a clear message about the importance of inclusivity, acceptance and equality."
Mic reached out to NBC for comment and will update this story if we hear back.
Correction: Nov. 22, 2016