HIV needs to be a part of the conversation when we talk about Mike Pence and 'Hamilton'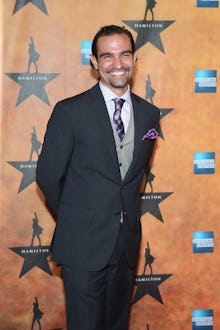 On Friday, Hamilton cast member Brandon Victor Dixon, who plays Aaron Burr, implored Vice President-elect Mike Pence to work on behalf of all Americans.
"We truly hope that this show has inspired you to uphold our American values and to work on behalf of all of us," he said before an audience that had earlier booed Pence. "Again, we truly thank you for sharing this show, this wonderful American story told by a diverse group of men and women of different colors, creeds and orientations."
Pence left the theater quickly after Dixon's speech, and what was caught on video has prompted a host of responses. Pence wasn't offended, but President-elect Donald Trump tweeted several messages about the cast "harassing" the vice president-elect. Media outlets called Trump's reaction a "distraction" to bigger issues. But little has been said about Dixon's words following his message to Pence, which included a plea to remember that more than 1 million Americans continue to be affected by the ongoing HIV/AIDS epidemic, and are in need of continued aid.
After his speech to Pence, Dixon asked the audience to donate to Broadway Cares/Equity Fights AIDS, an organization that works with several social service providers that benefit people living with HIV and other chronic illnesses. It's "red bucket" season on Broadway, in which several theaters are collecting funds for the organization. Friday night at Hamilton was part of their fall 2016 fundraising drive. As patrons left the theatre, queues of people exiting out into the street donated to BF/ECA volunteers holding red buckets. No reports mentioned whether Pence donated to BC/EFA. He did not immediately respond to Mic's request for comment.
The Hamilton cast is currently led by Javier Muñoz, an HIV-positive out gay Puerto Rican. Whether people know about his HIV status, his presence on the Hamilton stage serves as a loud reminder that 1.2 million HIV-positive Americans are part of the tapestry that Dixon described in his message to Pence. For queer men of color like Muñoz, the stakes in the fight against HIV are particularly high. Queer black and Latino men face staggering rates of infection and government opposition, or even neglect, will lead to the infection of thousands more.
HIV-positive Americans, and those at risk for infection, have much to lose in an administration that neglects their personhood and their health needs. Neither Trump nor Pence has a great history with addressing HIV. In January, advocacy organization Gay Men's Health Crisis asked every then-presidential candidate to lay out a plan for HIV prevention and treatment. Only three candidates — Democrats Martin O'Malley, Hillary Clinton and Bernie Sanders — responded with their plans.
Trump reportedly attended a fundraiser for children with HIV/AIDS to save face, without donating a single penny. The mother of Ryan White, a hemophiliac who acquired HIV through a blood transfusion, debunked a rumor circulating that Trump had paid for White's HIV treatments.
While Trump hasn't laid out plans to help people with HIV or to combat more than 40,000 infections in the United States in 2015, his running mate has adopted an almost sinister opposition to HIV treatment and prevention. Pence was an architect to an entire HIV outbreak in his home state of Indiana by gutting funding to Planned Parenthood, which was the only available HIV testing site for much of the state's southeast counties. After the outbreak, Pence declined to listen to public health experts and implemented a needle exchange program that lasted only 30 days.
Aside from his actions, Pence's words also don't bode well for those living with or at risk for HIV acquisition.
In 2000, Pence advocated rerouting federal dollars away from "organizations that celebrate and encourage the types of behaviors that facilitate the spreading of the HIV virus" and into "institutions which provide assistance to those seeking to change their sexual behavior." In short: take money away from organizations that condone queer sexuality and try to nip gay sex in the bud.
That Pence attended Hamilton during one of the two seasons per year volunteers seek donations for people living with HIV is a little ironic. Pence, in many ways, has been open about his lack of willingness to help those facing HIV. Pence's governing has been tainted by HIV stigma, or unfounded ideas about people living with HIV, while Muñoz's career has smashed it, just by living out his dreams.
Hundreds sit and watch Muñoz defy every aspect of HIV stigma — he moves, sings and creates art in a way that most people can only dream of. As a wealthy white heterosexual man, Pence has little risk of contracting HIV, and surely has the ability to walk out on conversations about HIV/AIDS. But for Muñoz and others like him, life with HIV — and the show — must go on.