Louisiana State Sen. Karen Carter Peterson smashes sexist cake of woman in bikini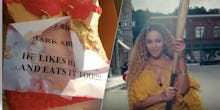 The Patriarchy ruins everything: women's equal right to a temperate office climate; book clubs; the Olympics; birthday cake. For Louisiana State Sen. Karen Carter Peterson (D), that last one proved to be the straw. 
When her coworker, Rep. Jack McFarland (R), brought a cake in the form of a busty, bikini-clad woman's body to work, Peterson smashed it. And then she tweeted pics — so the internet would know it happened. 
"The Louisiana State Capitol is not a locker room," Peterson told the Advocate. "If they choose to celebrate a birthday that way, then they should have done that off-site in another setting." 
Legislators found the patriarchal cake — a creamy hourglass torso with a pink rosette bikini, candles for nipples and a purple unicorn hip tattoo — in an anteroom adjacent go a meeting of the Joint Legislative Committee on the Budget. It was a gift to Rep. Mark Abraham — who, according to the sign attached to the cake, "LIKES HIS CAKE AND EATS IT TOO!!!!" — for his 63rd birthday. 
"If we offended someone, then I'm sorry," Rep. McFarland said in a phone interview. He clarified that he gave the cake, which his wife baked, to Rep. Abraham at "a private party the night before," and that Abraham had brought it in to share with his colleagues on Friday. 
"In his defense, it was a large cake," Rep. McFarland said. 
It's customary for legislators to bring in treats during those long meetings, he explained. 
While Peterson's tweet alleges there was also a vagina cake left out in the Capitol Building, McFarland stressed that "there was never a second cake depicting any part of the female anatomy."
"Even I felt that would've been inappropriate and [I] would've felt that would've been offensive as well," he said. 
When Mic suggested a cake of a woman's bikini-clad body wasn't so far off, in terms of objectification, from a cake depicting a woman's genitals, McFarland responded: "Everyone's level of tolerance is different. Everybody has a choice and they're free to make it, that's what so great about America. Especially [for] women."
"We have all seen ladies in bikinis on the beach," he added. "We've seen things on TV that are much worse than that cake. We all have the ability to turn the TV off." Someone could have put the lid back on the cake or asked him to remove it, he said — but instead, Peterson yelled at him.
"I used words that my mother will not be proud of," Peterson, who was not immediately available for comment at time of writing, said, according to ABC 13. She told the outlet she apologized for her language, but was frustrated because this kind of behavior fits a specific pattern.
While the men involved were able to laugh off the cake as a "joke," this isn't the first time they've made objectifying women's bodies part of the job; it's not even the first time this year. The Advocate pointed to the efforts of Rep. Kenny Harvard to infuse a little levity into the discussion of a human trafficking bill: He proposed an amendment that would've mandated all strippers be slim 20-somethings.
He later said he'd acted in jest, but not all his female colleagues were laughing. Rep. Helena Moreno (D) clapped back at Harvard with her #ItsNoJoke social media campaign supporting women battling "staggering inequalities" in Louisiana. 
As for Abraham, the recipient of the offensive bikini cake, he told the Advocate he didn't intend to do "anything that is offensive to this body or anyone else." But Peterson explained that the behavior of her male coworkers perpetuates a culture that disrespects women, without regard for their choices. So she smashed the cake.
"This is something my mother always told me as I was growing up: People will only do to you what you permit them to," Peterson told the Advocate. "My character doesn't permit me to remain silent in the face of offensive behavior."