'Pokémon Sun and Moon' Hairstyles, Haircuts and Hair Colors: How to customize characters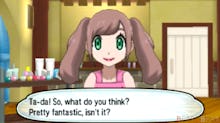 If you're diving into Pokémon Sun and Moon, you've probably already agonized over which version of the game to get and which starter to pick. Now there's something else you need to think about: what hairstyle and clothing your character is going to have.
Pokémon Sun and Moon has a ton of different hairstyles, hair colors, eye colors, makeup choices and clothing options for you to choose from, but it's not always easy to predict what those choices will look like before you drop the necessary cash on them. (The hair color "Pink Brown" could mean anything, right?)
Here's the full rundown of every customization option in Pokémon Sun and Moon.
Pokémon Sun and Moon: Female hairstyles
A redditor called twoduy uploaded a giant chart with many of the female hairstyle options, including their respective bang options and whether they're compatible with hats. The post notes that some hairstyles — like pigtails — are not included in the chart because they have yet to unlock them, but keep an eye on that Reddit post for when it's updated.
The chart is embedded below, but check out the full-sized image on Imgur if you're having trouble seeing the one you want.
If you prefer seeing these hairstyles within the game itself, check out the YouTube video below. It shows you every hairstyle and hair color for males and females in real time.
Pokémon Sun and Moon: Male hairstyles
To answer the age-old question of "What the hell is a modern quiff?" the YouTube video embedded below shows every male hairstyle and color available in Pokémon Sun and Moon.
Reddit user Mobix300 uploaded still images of the male hairstyles, if YouTube videos aren't your thing.
Pokémon Sun and Moon: Hair colors, eye colors and lipstick colors
Redditor twoduy uploaded a chart of Pokémon Sun and Moon's various hair color, eye color and lip color options. Check out the image below or see the original on Imgur.
Pokémon Sun and Moon female clothing
Last but not least, let's talk about clothing. YouTuber BeardBear uploaded a great video that showcases every female clothing option in Pokémon Sun and Moon. Each article of clothing has several variations, so there's a lot to go through. I guess it's nice to have options?
Pokémon Sun and Moon male clothing
Pokémon site Serebii has a giant gallery of the male clothing options available in Pokémon Sun and Moon, but YouTuber BeardBear has all the same info in a YouTube video, too. Again, there's a lot to choose from, so it's a bit on the long side, but that's the price you pay for fashion.
Pokémon Sun and Moon: Everything you need to know
If you're serious about Pokémon Sun and Moon, you'll want to read up so you can be the best. Check out our guides for picking the right starter, Pokémon Sun and Moon cheats, using a damage calculator, how to catch the new legendary Pokémon, how to get Munchlax and picking between Pokémon Sun and Pokémon Moon.