'Pokémon Go' Thanksgiving Event Update Notes: Niantic offers double XP, stardust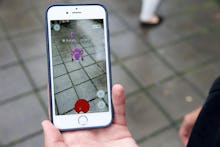 On Friday, Pokémon Go developer Niantic Labs released update 0.47.1/1.17.0. The changes don't amount to much, the update primarily just tweaked some graphics and text patches. 
But today, Niantic announced some truly excellent news: You'll receive double the experience and stardust rewards until Nov. 30, and that bonus counts toward anything you do that generates XP and/or stardust.
Are you tired of running Pidgey spam to level up your trainer in Pokémon Go? Do you not have enough stardust to level your Pokémon and stay competitive in gym battles? You'll love this.
Pokémon Go Thanksgiving event update notes: Rake in the double stardust and XP while you can
In prior Pokémon Go events, the bonuses were very specific, like the increased respawn rates only for certain species of Pokémon during the Halloween event. 
What makes this new event awesome is that the 2X bonus applies to everything. Spinning PokéStops, hatching eggs, catching Pokemon, evolving Pokémon — if the activity generates XP and/or stardust, you'll get double the rewards. Niantic didn't list a single exception in its event announcement.
Pokémon Go hacks, tips and tricks to help you make the most out of double stardust and XP
If you're a dedicated Pokémon Go player who will be jumping on this double rewards event immediately, you may also want to check out Mic's Pokémon Go guides. Here's everything you need to know about creating new PokéStops, setting up the best gym attackers and the best gym defenders and how to maximize your chances to catch Pokémon.