Iskra Lawrence strips down on the subway to issue a powerful statement on body positivity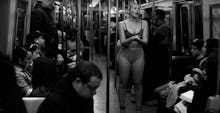 Curve model Iskra Lawrence has done some daring things in order to prove a point. To highlight the dangers of Photoshop, she's released her before and after photos. To issue a "Fuck you" to fat-shamers, she posed among junk food wrappers. 
Now, in perhaps her most daring move yet, in a video Lawrence shared on her Instagram on Sunday, she's stripping down on mass transit while telling all the onlookers about her journey to self-love, and why appreciating our bodies is so important. 
"I want to make myself vulnerable today so you can see truly the journey I've come on with my own body and how I feel about myself today," she says.
The video itself is part of a series called #UNMUTED created by the organization HGHB (which stands for high-quality human beings) and Me You Don't See, which calls on people to use their own voices to start conversations. Naturally, with Lawrence being a curve model herself, she wanted to speak out about the importance of body positivity. 
"I'm going to reveal myself to you to prove that we are in control of how we feel about ourselves," she continues in the video, while taking off her dress in front of a crowded train of people.
She then begins her story about her own journey to self-acceptance. 
"I grew up hating what I saw in the mirror because society told me I was not good enough," she says. "I thought there was something wrong because I didn't have a thigh gap." 
Ultimately, she blames her negative perception of her body on the media, which has promoted this idea that women should be without cellulite or bellies. 
"That is the media. That is society making a small standard of beauty when we are so much more than that," she says. 
"This body is not just something to be objectified, to be grabbed, to be looked at. This is my vessel. This is my home," she continues. 
At the end of the video, she pleads with her audience: "So please, I urge you, you deserve to love yourself, you deserve to feel comfortable and confident." 
When Lawrence posted the video for her more than 2.8 million Instagram followers on Sunday, she was also sure to write yet another message of her own:
"Hopefully one day we can all live [in] a nonjudgmental world full of love for one another," she wrote. "Appreciating the value in others and ourselves. Knowing we are equal and choosing to empower each other. It starts [right now] and it's the choices we make everyday." 
So maybe a good first step to make would be watching Lawrence's entire two-minute speech below: