Thanksgiving 2016 Movie Releases: 6 new films to see in theaters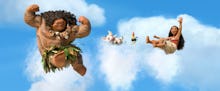 The safest place on Thanksgiving might be inside a dark movie theater. As families brace for fallout from dinner table political disagreements, movies may provide an outlet for escape. 
From dramas to comedies and even an animated kids movie, there is something for everyone in theaters. Check out the top six releases to watch this Thanksgiving.
Allied
Allied tells the love story of a Canadian intelligence officer named Max Vatan (Brad Pitt) and a French Resistance fighter named Marianne Beauséjour (Marion Cotillard). They survive the war and get married only for their relationship to face a dangerous new threat. 
Bad Santa 2
You may end up on Santa's naughty list after watching this sequel to the 2003 film Bad Santa. The second film reunites viewers with Willie (Billy Bob Thornton) and Marcus (Tony Cox) as they attempt to rob a Chicago charity on Christmas eve. Kathy Bates and Christina Hendricks also star.
Bleed for This
If you're looking for an inspirational film, look no further than Bleed for This. The movie is the true life story of boxer Vinny Paz (Miles Teller), who launched a comeback career after a spinal injury. Paz was told he'd never walk again, let alone fight. He proved everyone wrong.
Fantastic Beasts and Where to Find Them
Harry Potter fans won't want to miss Fantastic Beasts and Where to Find Them. The film is set in the same magical universe and offers a wonderful escape into the wizarding community. Keep an eye out for Harry Potter references throughout the movie.
Moana
This is a kid's movie that adults are also likely to enjoy. Disney's latest animated adventure is about a teenage girl who searches for a demigod to help save her people.
Rules Don't Apply
Lily Collins stars opposite Alden Ehrenreich in this romantic comedy about a forbidden love affair. Collins plays Marla Mabrey, an aspiring actress in Hollywood in 1958 who falls for her driver Frank Forbes, played by Ehrenreich. Forbes' employer Howard Hughes (Warren Beatty) has strict rules when it comes to his staff dating contract actresses. To top it off, Forbes is engaged to marry his seventh grade sweetheart.