Netflix announces 3 Dave Chappelle stand-up specials coming in 2017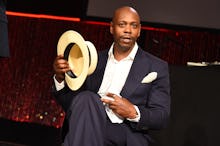 After an unbearably long hiatus from stand-up specials and his acclaimed sketch series, Dave Chappelle is making a much-needed return to comedy. Netflix announced Monday that the comedian is going to have three stand-up specials that will air in 2017. Interestingly, the specials will be released simultaneously on the streaming service — and two are coming from his "personal comedy vault" — though their release date remains TBD. 
"Dave Chappelle is a legendary voice in comedy — searing, vital and now more than ever, essential," Lisa Nishimura, Netflix's vice president of original documentary and comedy told the Hollywood Reporter. "Dave's three new specials promise to be some of the most anticipated events in comedy, and we are honored he will mark his global return on Netflix." 
Chappelle has mostly avoided the spotlight since Chappelle's Show ended in 2006, stepping out of the public eye to live quietly with his family in South Africa. However, we're seeing a bit of a resurgence of the comedian since his widely praised Saturday Night Live hosting debut following Donald Trump's election win. Chappelle's opening monologue addressed the forthcoming Trump presidency by vowing to give the real estate mogul a shot, with the very important distinction that he does the same for marginalized groups. 
"In that spirit, I'm wishing Donald Trump luck, and I'm gonna give him a chance, and we, the historically disenfranchised, demand that he give us one, too," he said. 
This is the type of social commentary we've come to expect from Chappelle: sometimes controversial — like when he criticized Black Lives Matter as a slogan — but consistently hilarious and topical in his subject matter. But in the early age of Trump, come 2017, we certainly welcome more of his comedic input.