Renewed Syrian and Russian bombing in Aleppo has left rebel-held areas with no hospital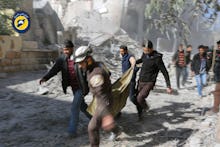 The latest airstrike campaign from President Bashar al-Assad's regime and Russia has left eastern Aleppo without a functioning hospital for the roughly quarter million residents cordoned off in the rebel-controlled part of the city.
"More than 250,000 men, women, and children living in eastern Aleppo are now without access to hospital care following attacks on the remaining hospitals over the last week," the World Health Organization said in a statement Sunday. 
After a brief cease in fighting, bombings from the Syrian government and Russia resumed a week ago. Hospitals, including a children's hospital, have been the target of some of the airstrikes and shelling. Omar Hospital was one such facility bombed Saturday. 
"Whatever I say I will not be able to describe the horror I am seeing," Aref al-Aref, who was in the hospital documenting the scene after the attack, told CNN.
Al-Aref described scenes of "decapitated bodies on the hospital's floor, children with bloodied faces, screaming mothers searching for their families under the rubble," CNN reported. 
Civilian volunteer rescue organization the White Helmets described similarly gruesome scenes, accompanied by images of the devastation on Twitter.
"We no longer have hospitals to operate in," one doctor told the New York Times. "You can't imagine what it's like living in Aleppo right now. It feels like we are living in hell. Our neighborhoods are in flames, and bombs are raining down from the sky. We urgently call on the international community to send help."
"You can't imagine what it's like living in Aleppo right now. It feels like we are living in hell."
The Syrian civil war between al-Assad's government — and now its Russian partner — and rebels has waged since 2011, leaving half a million dead and more than 11 million people, or over half the country's population, displaced.
On Sunday al-Assad's government rejected a proposal from the United Nations' envoy to Syria, Staffan de Mistura, for a temporary cessation of violence while a more sustainable "political solution" was negotiated. De Mistura suggested, in the absence of an alternative, the government's tyrannous response will push moderates fighting the regime into the Islamic State group. 
U.N. Secretary-General Ban Ki-moon warned those involved in fighting that their current mode of warfare is tantamount to war crimes. 
"The secretary-general reminds all parties to the conflict that targeting civilians and civilian infrastructure is a war crime," his spokesman said in a statement Sunday. "He calls on all sides to immediately cease any such attacks.  Those responsible for these and other atrocities in Syria, whomever and wherever they are, must one day be brought to account."
He also called on warring groups to allow "unhindered access to humanitarian assistance" into areas like eastern Aleppo, which is running desperately low on supplies, food and water.