Why did Kanye West cancel his Saint Pablo Tour? Here's what we know.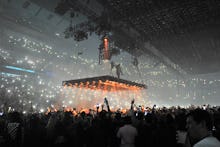 The Saint Pablo Tour has officially come to an end. After three months of shows, upwards of 38 dates across the United States, Kayne West has decided to throw in the towel, canceling the remainder of his concerts following a pair of controversial, headline-grabbing shows in San Jose and Sacramento, California. 
Live Nation made the official call Monday, following West's cancelling Sunday's Los Angeles date at the Forum just three hours before he was supposed to take the stage.
"The remaining dates on the Saint Pablo Tour have been cancelled," Live Nation Entertainment said, according to Page Six. "Tickets will be fully refunded at point of purchase."
The Saint Pablo Tour was widely hailed as a revolution in stadium touring. West's floating stage dazzled critics and fans alike, with Jon Caramanica of the New York Times likening it to the "Imperial Star Destroyer soaring through space in Star Wars."
"It made Mr. West both improbably close and tantalizingly out of reach," he wrote. "He was the host, but also a reveler."
The stage design opened up space below for fans to act out the punk-edged rage West has honed into his music since 2013's Yeezus. Footage from the floor of certain shows could easily be mistook for an underground hardcore show, save for the Chicago drill beats bumping in the background.
On the whole, it contained far fewer of West's "visionary streams of consciousness," or rants (take your pick), than past tours. His comments on Kid Cudi, following the artist's Twitter rant that called out West for using ghostwriters, and his cursing out Jay Z for not visiting him following Kim Kardashian West's robbery at gun point in Paris, were rare exceptions — until last week.
During a show in San Jose on Thursday, West addressed his feelings about Donald Trump in a polarizing rant. The rapper called the reality TV star-turned-politician's campaign "genius" and very "futuristic," promising he would run his own campaign in a similar way come 2020. 
Two nights later, West launched into an even more vitriolic screed airing out issues with Beyoncé, Jay Z, Mark Zuckerberg and Trump's former Democratic rival.
"This Saint Pablo Tour is the most relevant shit happening," West said during that ill-fated performance. "If y'all still keep following old models, your ass is going to get Hillary Clinton'd. You might not like it, but they gotta hear it."
His comments spawned a brief, but venomous, #KanyeIsOver party on Twitter.
West and his team have yet to make an official statement addressing the cancellation, but mental illness has been one of the most frequently tossed-around explanations. However, the reason may be more straightforward.
"It's nothing like that," a source close to West told People. "He's just exhausted. He's been working around the clock on fashion design, both on his own line and the Adidas line. He's a notorious workaholic, so balancing both that work — which is extremely important to him — and the rigors of the tour every night, it really wore him out."
Kardashian and his family likely "played a part in the decision [to cancel the tour]," the source added. "He's incredibly devoted to his family."
It's the best we have to go on for now. Mic has reached out to West's team for more information.
Until then, may Kanye and Pablo rest in peace.
Nov. 22, 2016, 11:14 a.m.: This story has been updated.