Donald Trump's administration is going to be so bad for women — especially women of color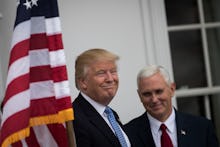 In his first two weeks as president-elect, Donald Trump has announced a handful of cabinet appointees. Until Wednesday, when he tapped South Carolina Gov. Nikki Haley to serve as ambassador to the UN, all of Trump's cabinet picks were white men. 
These proposed aides and agency heads have their own records of being racist, xenophobic, anti-Semitic and Islamophobic and seem to share the bigoted line of thinking central to Trump's presidential campaign. Of course, the campaign didn't focus exclusively on demonizing people of color, Muslims and immigrants; it was also laced with misogyny. Trump has repeatedly shown a fundamental lack of respect for women, and if the men who join his team follow his lead — or, rather, live up to their own reputations — they threaten to treat women as one faceless group. 
Part of the incoming cabinet's apparent antipathy toward women could be chalked up to the inherent ignorance abounding in a room that increasingly seems like everyone will look the same — where everyone is white and everyone is a man. We can predict not only that things won't be good, but also precisely how women of all creeds are going to be screwed over.
Among the policies the Trump administration promises to pursue are several that could exacerbate discrimination against already-marginalized groups. The president-elect's agenda includes walking back the Affordable Care Act, which has helped an estimated 20 million people get health insurance and expanded access to affordable contraception; overturning Roe v. Wade, increasing opportunities for states to limit abortion rights in the U.S.; and defunding Planned Parenthood, which he has acknowledged would decrease access to basic healthcare services, especially for women and families with low incomes.
Predicting Trump's cabinet will disregard women's rights and needs is an example of one of the election's biggest lessons: Hate tends to be intersectional. Sure, these issues will affect straight, white women. But women of color and queer women — who are disproportionately impacted by pay disparities and more likely to live in poverty — will undoubtedly shoulder the burden of the Trump administration's most harmful social and economic plans, from childcare policies that favor the rich to increased health care costs.
"We already know these barriers [to health care and pay equity] are being put in place and are impacting women, but disproportionately impacting women of color, who don't have means to access reproductive care, for instance," said Christy Gamble, director of health policy and legislative affairs at the Black Women's Health Imperative. "Black women are more likely to receive care at Planned Parenthood or other care facilities that happen to also have abortion providers. If we're restricting Title X funding based on a hospital or provider also being an abortion provider ... then we're restricting black women's access to care."
Adding that black women die in pregnancy and childbirth at significantly higher rates than white women, Gamble also pointed out that discriminatory policies don't just hold women of color back. When the government works against women's interests as a general rule — i.e. does its darnedest not to improve women's health or ensure women fair and equal opportunities in the workforce, as the Trump administration promises to — it trickles down to state-level policies as well as the culture. White women won't be spared the political marginalization that comes with voting sexism into office, even if the impact isn't as severe as it is for other demographics.
Based on Trump's roster of announced appointees and remaining candidates, it seems the people who end up serving him will likely endorse policies which limit access to basic services and strip minority group of civil rights. 
"We've opened the door to this kind of [sexist] language, rhetoric and policy, and we already know there's going to be an uphill battle."
Several legislators expected to join the cabinet have demonstrated what is at best a lack of concern for women, people of color, queer people, religious minorities and immigrants, but more often outright contempt for them. Attorney General nominee Sen. Jeff Sessions, whose racist comments got him blocked from a federal judgeship, has a long history of trampling women's rights at every opportunity; he also defended Trump's grotesque Access Hollywood comments, saying the president-elect's words did not describe sexual assault (they did). So too does Rep. Tom Price, who is reportedly Trump's pick for Secretary of Health and Human Services, as well as a prominent foe of LGBTQ rights. 
The coalescing cabinet is also made up of men who might not have troubling voting records, but who have prejudiced backgrounds nonetheless. Proposed White House chief strategist Stephen Bannon, who was accused of physically abusing his ex-wife in the mid-'90s, later went on to run Breitbart, an alt-right publication that peddles white nationalist ideology, conspiracy theories and anti-feminist propaganda. The media executive-turned-executive aide has referred to educated women as "a bunch of dykes" and threatened to kick a past female employee's ass. 
He's not alone in allegedly overseeing a sexist workplace: Trump's incoming National Security Adviser Lt. Gen. Michael Flynn — a man who has said fears of Islam are "rational" and isn't sure people should be able to get abortions — was also associated with a blatantly sexist email to his office while he was in charge of the Defense Intelligence Agency.
"We've opened the door to this kind of [sexist] language, rhetoric and policy, and we already know there's going to be an uphill battle," Gamble said. "When you have the individuals who are nominated [in power]," she added, "there's the possibility that ... other policymakers at the state level will feel they have the ability to put in place more harmful policies or speak this negative language." 
State lawmakers and domestic hate groups won't be the only ones emboldened to discriminate by following the federal government's lead. Whether Trump wants it to or not, the U.S. has major global influence; policies like the "global gag rule," which the president-elect and his team are expected to reinstate, have international ramifications, especially for women in developing nations. Also known as the Mexico City policy, the gag rule could decimate women's health care access in the developing world, by cutting funding to any foreign aid organization that provides abortion services. 
The U.S. already has in place an amendment that prevents taxpayer dollars from funding abortions through aid money, yet the Trump administration — like all Republican administrations since Ronald Reagan's second term — plans to reduce international reproductive health funding more drastically. According to Jonathan Rucks, director of advocacy at PAI, such policy shifts will harm women in the U.S. and abroad, but that won't simply be because of restricted resources.
"The U.S. really does set the tone when it comes to funding for progressive policies, especially for reproductive health and [treatment of] women and girls," Rucks said in a phone interview. "A number of donors and countries follow our lead. What will be the new tone under the Trump-Pence administration? Will it be one that will embolden unfriendly governments to target [women and LGBTQ individuals]?"
Of the many lessons to be gleaned from this election, one is that we can't treat women like a monolith.
At the very least, the Trump-Pence administration promises to be one that emboldens U.S. lawmakers to disregard and disrespect women domestically, whether those women voted for them or not. Of the many lessons to be gleaned from this election, one is that we can't treat women like a monolith: The assumption that female voters would vote for a female candidate, for instance, turned out to be false for white women, more than half of whom cast ballots for Trump despite his misogynistic campaign. Black and Latina women rejected Trump and voted for Hillary Clinton at rates of 95% and 70%, respectively — because American women's experiences, and the ways government policies affect them, are different. 
The president-elect's team promises to be full of people who don't much seem to care, though. Instead, they're likely to enforce an agenda that erases or antagonizes women and minorities.
In a practical sense, that means no equal pay; no family leave; no affordable childcare; no boost in the minimum wage; no protections against hiring or pregnancy discrimination at work; and more restrictions on women's ability to control their own fertility, bodies and health. More broadly, however, it means the rules are not being made for half the population. It means that making America "great" again will be anything but for much of the country.
Nov. 23, 2016: This story has been updated.