How to get Ash-Greninja in 'Pokémon Sun and Moon' if you played the demo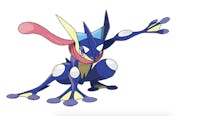 Ash-Greninja played a starting role in the Pokémon Sun and Moon demo, but the fun doesn't have to end there. If you're playing the full game, you can add Ash-Greninja to your lineup in Pokémon Sun and Moon for free!
How to get Ash-Greninja in Sun and Moon: Add it to your Pokémon lineup
As long as you played through the brief Pokémon Sun and Moon demo, you'll qualify to get Ash-Greninja in the main game. Just make sure both versions are running on the same 3DS and you should be good to go.
First, launch the Pokémon Sun and Moon demo and head to the Pokémon Center. Talk to Professor Kukui and when he asks what you want to do pick the option "bring to full version." Then select Ash-Greninja, along with any other items you want to hold onto.
Next, open the full game and enter the closest Pokémon Center. Talk to the guy behind the help desk, and when he asks if you want your "Mystery Gift," say yes. Just make sure you have an open slot in your lineup for Ash-Greninja.
Ash-Greninja in Pokémon Sun and Moon: Stats, moves, abilities and more details
Ash-Greninja starts at level 36, but you won't be able to use it right away. According to Professor Kukui, this Pokémon won't actually listen to you until you beat the first to Grand Trials. That's probably for the best. Otherwise, the first part of Pokémon Sun and Moon might be way too easy.
Beyond its high level, Ash-Greninja boasts extra strength thanks to its Battle Bond ability. Basically, its strong connection with the trainer makes its legs super-powerful, allowing this Greninja to move so quickly it can be "difficult to see."
"It takes its enemies out in a flash," the Pokémon Company says. "It becomes able to make giant Water Shurikens on its back, and it can throw them in rapid succession."
Battle Bond only activates after you've defeated a Pokémon in battle. It lasts throughout the entire battle, making it possible for Ash-Greninja to plow through an enemy lineup. At the end of the fight, it reverts to its regular form.
Pokémon Sun and Moon: Everything you need to know
If you're serious about Pokémon Sun and Moon, you'll want to read up so you can be the best. Check out our guides for picking the right starter, Pokémon Sun and Moon cheats, using a damage calculator, how to catch the new legendary Pokémon, how to get Munchlax, how to customize your character, how to use QR codes and picking between Pokémon Sun and Pokémon Moon.