USA Gymnastics physician arrested, charged with sexual assault of minor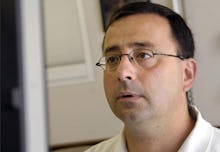 After dozens of people alleged sexual assault against a former physician for the USA Gymnastics team, he has been arrested and charged for his apparently habitual abuse of underage female patients, CNN reported. 
Dr. Larry Nassar, 53, worked as a doctor for the Michigan State University gymnastics and crew teams, and for the United States national gymnastics team during four Olympic Games. After his arrest on Monday, he faces three counts of criminal sexual assault against minors under the age of 13.
USA Gymnastics also stands accused of ignoring and even covering up his behavior. Coaches Bela and Marta Karolyi face a lawsuit for having allowed the abuse to continue unchecked. 
According to NBC, Nassar served as the national team's doctor from 1996 to 2015, when he was fired (and reported to the FBI) over "athlete concerns." The first reported incident of inappropriate sexual conduct occurred in 1998. Nassar's lawyer, Matthew Newburg, told CNN that the charges were not a surprise and that he and his client had "a plan in place" to fight them. 
The Michigan Attorney General's Office took over the case from Michigan State University Policy, with whom many of the victims lodged their complaints, in October. Following Nassar's arrest on Monday, USA Gymnastics released a statement distancing itself from its former physician.
"As we previously have made clear, when USA Gymnastics first learned of athlete concerns regarding Dr. Nassar, those concerns were reported to the FBI and Nassar was dismissed from further involvement with USA Gymnastics," the statement read, according to CNN. "We are unable to comment further due to the ongoing FBI investigation and pending litigation."
News of Nassar's misconduct broke in mid-September, when the Indianapolis Star reported that two women — an Olympic medalist identified in her lawsuit as Jane Doe, and Rachael Denhollander, a former gymnast Nassar treated at Michigan State University — had accused the doctor of having sexually abused them. After the Indianapolis Star published its story, the number of victims who came forward climbed to over 30. 
Denhollander told the Indianapolis Star that she began seeing Nassar in 2000 as a 15-year-old. He treated her for lower back pain, his actions becoming more inappropriate over the course of five appointments, she said. He groped her breasts and her genitals, and also digitally penetrated her vagina and anus, according to Denhollander.
According to NBC, Nassar's lawyers maintain that any vaginal penetration by Nassar was in line with osteopathic practice. Denhollander feels otherwise, and is hopeful that her testimony will help secure justice for his other victims
"I'm heartbroken for his victims. And I'm heartbroken that that's the man he is," she told NBC, adding that she's "grateful it's coming out."
"The reason I came forward is I wanted him to be stopped," she continued. "And I think that's being accomplished."