U.S. Holocaust Museum calls on public to denounce Richard Spencer, white nationalism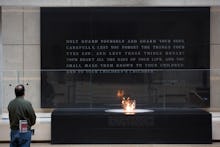 The United States Holocaust Memorial Museum, Washington's preeminent institution dedicated to the memory of the 6 million Jews and millions of others the German Nazis murdered during World War II, issued a statement condemning a gathering of white nationalists in the city over the weekend.
Quoting media reports that Richard Bertrand Spencer — leader of the white nationalist think tank National Policy Institute, which sponsored the conference — made several disparaging references to the Jewish people, "spoke in German to quote Nazi propaganda" and said the U.S. belongs to white people, the museum asked the nation to repudiate the conference and its rhetoric.
"The Holocaust did not begin with killing; it began with words," the USHMM wrote. "The Museum calls on all American citizens, our religious and civic leaders and the leadership of all branches of the government to confront racist thinking and divisive hateful speech."
At the conference, Spencer led the crowd in a chant of "Hail Trump, hail our people, hail victory!" in reference to the recent victory of Republican President-elect Donald Trump, the Atlantic reported. He referred to the U.S. as "until this last generation, a white country designed for ourselves and our posterity ... It is our creation, it is our inheritance and it belongs to us."
According to the Southern Poverty Law Center, Spencer coined the term "alt-right" in 2008 as a euphemism for white nationalism, an ideology devoted to maintaining white dominance of American cultural and political life and the construction of a racially hierarchical white ethno-state.
Trump's racially inflammatory rhetoric on the campaign trail garnered him significant support from the far right. The president-elect's pick for White House chief strategist, Stephen Bannon, until recently ran self-declared alt-right hub Breitbart, which under his tenure struck an openly hostile tone on racial, gender and identity issues.