What happened to Kanye West? Hospitalization reported as Saint Pablo Tour cancelled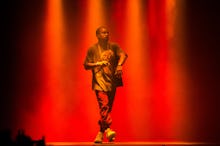 Hip-hop icon Kanye West was hospitalized and is under observation at an Los Angeles-area hospital on Monday, NBC News reported.
According to NBC, a source said Los Angeles police responded to a welfare check at around 1:20 p.m. Pacific (4:20 p.m. Eastern), with no criminal activity reported. Earlier in the day, concert promoter Live Nation canceled remaining dates of his Saint Pablo Tour.
While NBC noted West had a "rough week" including an endorsement of Republican President-elect Donald Trump and harsh words for Beyoncé, Jay Z, Hillary Clinton and Facebook founder Mark Zuckerberg at a concert he walked out of after performing just three songs, there was no indication what had led to his hospitalization as of Monday night.
However, an anonymous source told the celebrity gossip site TMZ the hospitalization came after a doctor's visit for sleep deprivation.