Kanye West Hospitalized: Fans send messages of support following rapper's hospitalization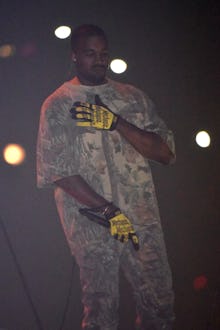 Rapper Kanye West was hospitalized Monday at UCLA Medical Center in Los Angeles for a psychiatric evaluation, TMZ reported. 
West's hospitalization comes on the heels of a rocky past few days. He was booed Thursday at a concert in San Jose, California, after saying that if he had voted, he would've voted for Donald Trump. At another show, West went on a tirade against Beyoncé and Jay Z after arriving an hour late. On Monday, it was announced the remainder of West's Saint Pablo Tour was canceled. 
Although #KanyeIsOverParty trended on Twitter after both incidents, many seemed fed up with West's antics, while others took a more sympathetic approach, noting that mental illness is nothing to make fun of or shame someone for.
West has exhibited troubling behavior in the past year, but has never publicly spoken of living with mental illness.