Kylie Jenner is being accused of copying a makeup artist's original work yet again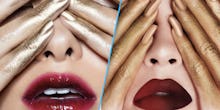 Kylie Jenner isn't exactly known for being the most original celebrity alive. She's been continually called out for copying hairstyles that are from a culture that is not her own, and copying a blogger's festival look from head to toe. Even when it comes to her popular Kylie Cosmetics line, people have said the formulas are far too close to Colourpop's, and companies have come forward saying Jenner has copied their palettes as well. 
Now, she is being accused of ripping off another makeup artist's original artwork — and it's not even the first time this has happened. 
On Sunday, the Kylie Cosmetics Instagram page posted a promotional image for Jenner's latest makeup collection, which shows a close-up on Jenner's face, with her hands dipped in gold and covering her eyes. 
"Yellow Gold crème shadow on the hands available in the holiday collection," the caption reads, with a credit to the photographer, Marcelo Cantu.  
That day, Los Angeles-based makeup artist Vlada Haggerty posted an Instagram showing that Jenner image right beside an image of her own, which shows a similarly looking model with her hands dipped in gold and covering her eyes. One key difference: Hers was posted weeks ago.
"Really @kyliecosmetics?" the caption read. "Haven't you gotten enough 'inspiration' from me already? Left is the work [Photographer Julia Kuzmenko McKim], [model Britt Rafuson] and I shot a few months ago and right is Kylie Cosmetics new campaign." 
While Jenner's image was posted over the weekend, Haggerty's was posted on her page eight weeks ago. 
In a new blog post from the original image's photographer, Julia Kuzmenko McKim, she outlines when the original shoot went down (Sept. 17), when she originally posted the image on her own Instagram page (Sept. 23) and what it was like to see that image copied down to the ombre lip, more than a month after she and Haggerty both posted the image on their respective Instagram pages. 
"My initial reaction was emotional, and my Instagram post contained harsh words such as 'pathetic knockoff,'" Kuzmenko McKim wrote. "I was in shock and disbelief. I am not proud of that, and I removed them shortly after I posted it and apologized to the photographer. He accepted my apology about using those words. But the issue is still there, whatever you name it." 
Although Kuzmenko McKim finds it hard to believe that Jenner herself would know that the image she posed for was ripped off another artist, it still irks her that the campaign is still up, and the photographer himself isn't backing down. 
"It breaks my heart to see how large brands take independent, unprotected artists' work and use them to multiply their wealth," she wrote. "We are very thankful to everyone who saw this issue for what it is and supported us. Only does it really help us independent artists on a global scale? Or is this publicity only beneficial for Kylie Cosmetics?" 
This isn't even the first time Jenner has appeared to have swiped some art from Haggerty's page. Back in December, when Jenner was promoting the release of her rose gold lip kit, she posted an Instagram, which is now deleted, of lips dripping in metallic gold. 
See here: 
And in reality, Haggerty had posted that same image on her Instagram in May 2015. See here: 
Although Jenner's team edited the caption of the photo on a Kylie Cosmetics Instagram page to include a credit to Haggerty, that still wasn't enough. 
"Crediting artists is essential, but this goes beyond that," Haggerty told Refinery29 months ago. "It's theft; this is our livelihood... I see these things happen too many times to artists. We are all trying to make it, and this business is extremely competitive. I would ask anyone at this level use the proper channels to obtain images."
So, what's going on here? Well, either Jenner needs to hire a more creative team, or needs to clear the air immediately. 
Mic has reached out to Haggerty for further comment.