Seth Meyers explains why we shouldn't focus on Donald Trump's beef with 'Hamilton'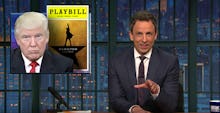 What important business was President-elect Donald Trump up to this weekend? Did he unveil actual details on how he plans to defeat ISIS, or the financial burden of literally building a wall around Mexico? No, but Trump did let people know that the Broadway musical Hamilton is "highly overrated." 
As Late Night host Seth Meyers explains, Trump was responding to what happened to Vice President-elect Mike Pence when he went to a showing of Hamilton in New York on Friday. He was booed by the crowd before actor Brandon Victor Dixon delivered a poignant, but polite statement to Pence. If you were to look at Trump's tweets from Saturday morning, however, you'd have assumed much worse. 
But as Meyers notes, Trump's apparent beef with Hamilton is a diversion from some of the president-elect's other, more unsavory stories from over the weekend. Specifically, Meyers refers to Trump settling for $25 million over fraud lawsuits with Trump University. 
"As fun as it is to talk about this Hamilton feud, it's just a distraction from a far bigger story," Meyers adds. "A story that will one day be told in the hit Donald Trump musical, Scamilton." 
Other stories related to Trump from the weekend that the president-elect would rather not focus on: His controversial appointment of Alabama Sen. Jeff Sessions, who has a history of racial comments; hate crimes committed in Trump's name; and the potential conflicts of interest between Trump's presidency and his personal brand. Per Meyers, it's already taking shape in Trump's new hotel in Washington, D.C., as he's reportedly enticing foreign diplomats to stay at the hotel. 
"You may recall that a common criticism of the Clintons was how they enriched themselves financially after leaving office," he says. "Well, Trump is proving yet again that he is the anti-Clinton by enriching himself before he takes office." 
Watch the segment below: