Kanye West "I Feel Like That" video may have been a warning about his mental health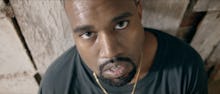 The story of Kanye West, the eccentric rapper whose rants have become as expected and normalized as his groundbreaking musical contributions, has taken a dark turn in recent weeks. After two vitriolic, rant-heavy shows in California — one that ended just three songs in with a mic drop — and the official cancellation of his Saint Pablo Tour, West has been hospitalized for "stress and exhaustion" at Ronald Reagan UCLA Medical Center, according to the Los Angeles Times.
It's a chapter of this saga that didn't exactly surprise many of his fans who know his catalog and watched his unhinged streams of consciousness with great empathy. In fact, earlier this year, he essentially dramatized this exact moment in a music video that never really got the attention it deserves. "I Feel Like That" was released as a surprise second track to Kanye West's "All Day" video directed by Steve McQueen.
With a haunting degree of foreshadowing, it features Kanye West exhausted, slumped in a corner after bouncing around the room rapping his decadent "All Day," giving himself a partial psychological evaluation, asking questions intended to reveal anxiety and depression symptoms. 
He answers: "I feel like that all the time."
His eyes appear closed throughout the first set of questions, similar to those asked in the Hopkins Symptoms Checklist, a test designed to measure symptoms of anxiety and depression:
Do you experience nervousness or shakiness inside, faintness and dizziness? The idea that someone else can control your thoughts? Feeling others are to blame for most of your thoughts? Trouble remembering things, feeling easily annoyed and irritated. Feeling afraid in open spaces or in public. Thoughts of ending your life. Feeling that most people could not be trusted. Poor appetite, heart or chest pains?
He suddenly opens his eyes: "I feel like that," he exclaims, as if surprised someone could sum up his feelings so well. It leads to an extended auto-tuned vamp on the line, reminiscent of the breakdown section of his My Beautiful Dark Twisted Fantasy track "Runaway."
It's hardly West's only nod to these feelings in his catalog. Alongside the celebrity insults, luxury raps and revolutionary fervor that demand attention in his music, the artist often slips in lines like those about his experiences with the anti-depressant Lexapro on his Life of Pablo cut "FML," or admitting to seeing a psychiatrist on "No More Parties in L.A." In interviews as well, he's discussed feeling responsible for the death of his mother, Donda West, and experiencing immense emotional fallout from her passing. The ninth anniversary of her death passed on Nov. 10.
However, there's been a profound unwillingness by many fans and commentators to consider these signs alongside his recent behavior. It's led to the creation of joke fests like #KanyeIsOverParty on Twitter following his Sacramento rant, in which he criticized Beyoncé and begged Jay Z not to send his killers after him. The profound realization that Kanye West is not simply an asshole looking to troll the media and fans has silenced much of the ridicule. 
Perhaps it will encourage others to look back through West's storied catalog and see that it's not all brags and insults. They're expressions of an artist in tune with himself and the emotional perils of being a celebrity on display for the world to pick apart at will and whim.