North Carolina Gov. Pat McCrory refuses to concede election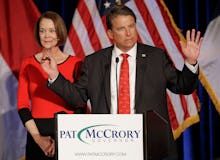 After losing North Carolina's run for governor by nearly 7,000 votes, Gov. Pat McCrory remains staunch in his refusal to concede the race to his Democratic opponent, state attorney general Roy Cooper.
According to Mother Jones, in the two weeks since the election, McCrory has alleged voter fraud in 52 of North Carolina's 100 counties, arguing that Cooper had "circumvented the electoral process" and counted the votes of ineligible felons and dead people to claim his victory.
"Instead of insulting North Carolina voters, we intend to let the process work as it should to ensure that every legal vote is counted properly," campaign spokesman Ricky Diaz said in a statement published to McCrory's website. 
Though a number of Republican-controlled county elections boards have already rejected McCrory's contests, the New York Times reported that it's likely the campaign will appeal these decisions all the way to the State Board of Elections. 
Some may find it unsurprising that the state's gubernatorial election has become so contentious. McCrory made a name for himself on a national scale in March when he signed House Bill 2 into law, legislation that mandated transgender and gender nonconforming people use the bathroom corresponding to their biological sex rather than their gender identity. 
Activists, musicians and corporations protested the law, and the Department of Justice later announced it would sue the state of North Carolina for the discriminatory bill.
The New York Times wrote that debates over HB2 had not only affected the outcome of McCrory and Cooper's race against each other, but had "fractured" the swing state in the presidential election.
But while North Carolina voters — and the rest of the country — know unequivocally who their president is, McCrory's quibbles over alleged voter fraud has left them uncertain about who their governor will be. 
"We're supposed to have an inauguration on Jan. 7," Republican lobbyist Theresa Kostrzewa told the New York Times. "Are we going to have a governor? That, I think, is what most people are going to start wondering pretty soon."